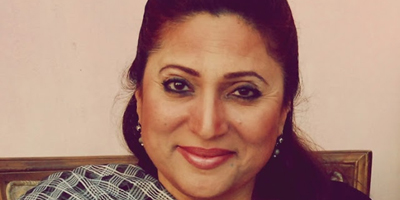 JournalismPakistan.com March 31, 2013 Daud Malik

ISLAMABAD: With Musarrat Shaheen making a comeback to the elections fray, again taking on Maulana Fazlur Rehman, the print, electronic and social media are smiling again.
As in 1996 when the actor first decided to challenge the Jamiat Ulema Islam chief, media are looking forward to the spectacle of the former Pashto film actor vowing to 'defeat' a religious political heavyweight.
Though media reports say she stands no chance, tongues are wagging and cartoons are on the social media. Ms Musarrat is back in the news.
The actor, who has worked in films like Haseena Atom Bomb, Dulhan Aik Raat ki, has been introduced in media reports as one who is "known for her raunchy dances" or "Pak item girl".
After a front-page interview in The Express Tribune in which she sounded confident, Dawn viewed her contesting the elections as "asserting her right as a woman, as a woman actor, to be an active member of a system, fighting in an area which is dominated by men beholden to strict traditions, and where the threat of militants disrupting the polls is considerable."
For Dawn, "she could do a better job if she is able to prove that hers is a serious attempt at participation, and not just as a performer required by the script to embarrass someone."
But if in the coming days, this contest or perhaps no contest provides more jokes, innuendoes and cartoons, matters may not remain very peaceful. Given the fact that Pakistan has become more violent, intolerant, and insensitive, a joke, a cartoon or a comment over this contest may lead to tragedy - perhaps because of the contrast between the two candidates.
To understand how sensitive this is, one has to go back to Peshawar (December 3, 1996), days before the 1997 elections. According to Pakistan Press Foundation (PPF), "Unidentified men ransacked the bureau office of The Muslim.... four of the intruders held reporter Fakhr Alam and beat him on the head with iron rods, seriously injuring him. The others smashed typewriters, telex machines and furniture, and set them on fire."
The PPF adds: "The attackers were angry over a cartoon published in the newspaper. The cartoon was based on the news report that Musarrat Shaheen, an actress who is famous for revealing and suggestive dances, had announced that she would contest the elections against Fazalur Rehman, leader of the clerical Jamiat Ulema Islam (JUI)."
The men's anger was based on the fact that the cartoon juxtaposed the actor and the leader in a typical 'filmy dancing pose'.
The Muslim is now part of history. Nobody perhaps remembers the cartoon. However, there is need to be careful because history has this nasty habit of repeating itself.
(The writer is a senior journalist who has worked for The News and Dawn)