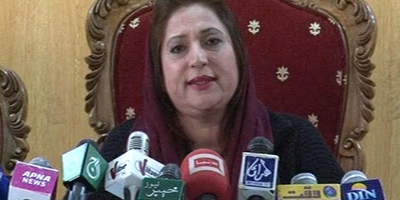 JournalismPakistan.com March 08, 2013
LAHORE: The tense mood prevailing at the hunger strike camp of F Block affectees turned pleasant with the arrival of the ageless and ever-young Pashtu films' star-turned-politician Musarrat Shaheen in the wee hours of Thursday.
It was the fourth day of the hunger strike being observed by some disgruntled members of Lahore Press Club (LPC) for not being allotted plots in a journalists housing society in Harbanspura.
Musarrat was returning from a TV channel's office after attending a talk show when some cultural reporters called her and requested her to join them at the camp.
She stayed there for a good two-and-a-half hours and expressed solidarity with the protesters. She also vowed to raise the issue at the relevant fora and extend moral support to the supporters on a continual basis.
The news of her presence at the camp spread like jungle fire and crews of several TV channels reached the venue within no to time. She recorded her statement which was aired repeatedly by TV channels along with those of the protesting Lahore Press Club members.
Sher Azfal Butt, a protesting member, told JournalismPakistan.com that Musarrat entertained them during the full length of her stay by sharing interesting anecdotes and jokes, many of which centered on her rival in politics, Maulana Fazlur Rehman.
Her visit had a dynamo affect which prompted parliamentarians from opposition party in the province, Pakistan People's Party (PPP) and its office-bearers to visit the camp later in the day. The protesting members told JournalismPakistan.com that not even a single member from the ruling party Pakistan Muslim League-Nawaz (PML-N) had bothered to visit them.
Senior journalists Ijaz Hafeez Khan, Azam Choudhry, Shakeel Ahmed, Kashir Butt, Khawaja Awais Riaz, Shoaib Chachu, Nasir Naqvi, Afzal Talib and others also visited the camp and stayed there for hours.