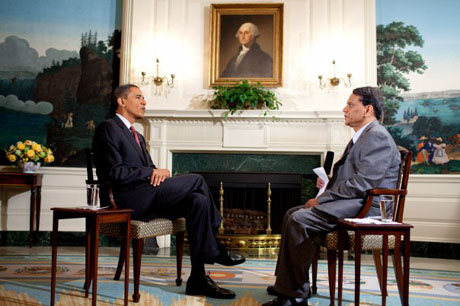 JournalismPakistan.com May 2, 2012
In recent times he's interviewed President Barack Obama, Secretary of State Hillary Rodham Clinton, Assistant Secretary for South and Central Asian Affairs Richard A. Boucher and controversial former Pakistan Ambassador to the US Husain Haqqani.

He's also shown great insight in reporting on important US-Pakistan bilateral developments as well as matters concerning India and Pakistan.

Most refreshingly though, he's a delightful poet, an enthusiastic history and culture buff and a wonderful short story writer. His weekly blog never fails to surprise or quicken the pulse.

Anwar Iqbal, the senior Dawn correspondent in Washington, is a versatile journalist and a wonderful person and friend. Anybody who really knows him will tell you this.

But for those that do not, the thought of meeting him or speaking to him can be more than a little intimidating. After all, Anwar has been in the business for the better part of four decades. He's seen it all, done it all. But it only takes a few minutes for one to realize that this man has no affectations; he is what he is… a genuine and warm-hearted person that does not let his likeable persona get in the way of being a professional.

It's been a long road for Anwar and for those of us who know him from the "Muslim Days" will tell you, he hasn't changed a bit. The "Muslim Days" is reference to the time when some of the most enterprising young and most respected senior journalists worked together at the trend-setting Islamabad newspaper The Muslim in the late seventies and early eighties.

It was a heady time. Much was happening in Pakistan and we were in the thick of it, including of course, Anwar Iqbal. General Zia had just got rid of Zulfiqar Ali Bhutto and usurped rule of the country, his zombie like eyes, handlebar moustache and military uniform an ominous and constant reminder of the time.

But those of us at The Muslim never let this bother us. Stories continued to be reported, headlines written, pages made and newspaper produced.

Anwar was a young reporter at that time vying and jostling for recognition in a very competitive reporting room. He would write any and everything he became aware of, ranging from crime reports, to cultural and social happenings in the capital, to administrative matters to "City Diaries", something akin to what is now known as a blog.

Anwar worked hard, spending a lot of time on the second floor offices of The Muslim in Islamabad's bustling Aabpara Market. He would come in early in the morning and leave late at night. He went, he returned, he wrote, always coercing the senior staffers to have a look at his story and suggest changes and improvement. Anwar was a willing learner who never forgot the lessons he learned on an almost daily basis.

In the process, he soon became one of the most popular as well as capable reporters on The Muslim staff and Anwar did it in style, often discarding his shoes as he paced the floors of office, trying to think up better lines, getting more information and always trying to get his 'partner in crime' B K Bangash, the photographer, to procure a capture to go with his story.

One day, someone hid his shoes. For a while at least, Anwar was not amused, but once he realized it was all fun he went along with the moment until his shoes were returned.

Anwar never failed to see the funny side of things. He had a knack of giving people nick-names and never missed a chance at repartee. Once the daughter of a minister came to the office and it was soon discovered that she would be working on the staff. As Anwar was going to introduce her to the rest of the staff the girl got a fit of sneezing that ended 19 sneezes later. One was not sure whether her eyes watered more or Anwar's. He just could not stop laughing.

For Anwar, every story was an exclusive done with unbridled exuberance. Often he would make changes even after the page was prepared. And that is why today he is amongst the most respected Pakistani journalists.

I have seen and heard young journalists quote from his reports or try to follow his style. I wish they could do half of what Anwar does. Journalism would be secure in Pakistan. Unfortunately, unlike Anwar, most of them do not have patience.

The other day Anwar observed while chatting on Facebook, "We should keep in touch. We are getting old."

I would agree with him on the first account, but not on the second. Anwar is as fresh and young today as he ever was.