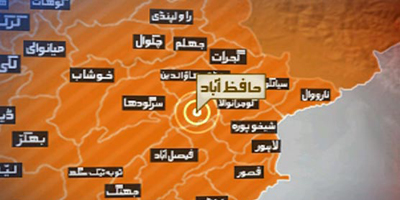 JournalismPakistan.com October 07, 2014
The International Federation of Journalists (IFJ) joins its affiliate the Pakistan Federal Union of Journalists (PFUJ) in strongly deploring the murders of two journalists in two separate incidents in Hafizabad, Punjab , in recent days.
With the tally of journalists killed in Pakistan now reaching 13 this year, the IFJ has demanded that the Pakistan government must take serious action on protecting the country's media workers and heed global calls to tackle the country's shocking impunity problem.
Pakistan grimly leads the world in the killing of journalists in 2014, according to IFJ figures. The IFJ Killed list now places Pakistan as the most deadly country for journalists – ahead of Iraq, Afghanistan and Syria.
According to reports, Nadeem Hyder, a correspondent for Daily Dunya, was shot dead by two unknown assailants in Kaliki Mandi area of Hafizabad on Friday, October 3. The killers fled the scene. Local police are said to have registered the case and begun an investigation.
Two days later, on Sunday, October 5, unknown gunmen shot dead Yaqoob Shehzad in the city's busiest neighborhood, Sagar Road. Shehzad, a correspondent of TV channel Express News, was shot in the head three times.
The PFUJ said: "This seems to be a new wave of target killing of journalists in Pakistan. The PFUJ is concerned over the current wave of killings and demands the government to provide protection to the working journalists."
"We have been demanding the government to provide security to the media men but no attention is being paid and the issue is getting more and more serious."
Threats and attacks against journalists continue to increase in Pakistan as the country's key opposition parties intensify demonstrations against the government. During recent protests many journalists,media staff and media houses came under attack from both the state and opposition.
"The situation facing media workers is horrific with threats and assassinations on a number of fronts," said IFJ acting director, Jane Worthington. "The time for the Pakistan government under Nawaz Sharif to take its obligations to protect journalists is seriously overdue."
"Impunity for the killers of and perpetrators of violence against journalists only serves to fuel a cycle of killing. It also serves to intimidate broader society and undermine public confidence in the rule of law."
In what has been a shocking week for journalists, the Chief Editor and publisher of Frontier Post Rehmat Shah Afridi was also arrested in Lahore on Sunday, October 7.
According to reports Civil Lines Police stormed Afridi's office, took him away and put him in lock up. Afridi was taken into custody due to a case registered under section 506 of Pakistan's Penal Code, on a complaint lodged by his estranged son Muhammad Jalil.
The IFJ said: "We join the PFUJ to condemn the appalling murder of our colleagues Nadeem Hyder and Yaqoob Shehzad and we send our deepest condolences to their families and colleagues. We appeal for the government to leave no stone unturned in this case and to ensure that those responsible answer for this horrific crime."
The IFJ also calls on authorities to release Rehmat Shah Afridi from police custody and resolve the allegations against him. - IFJ Press Release