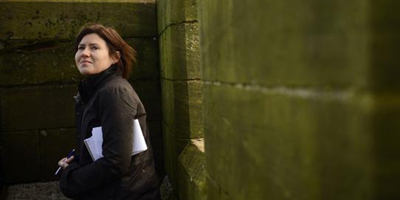 JournalismPakistan.com February 23, 2015
LONDON: Maria Golovnina, Reuters bureau chief for Afghanistan and Pakistan who was widely loved and admired for her courage, compassion and professionalism, died in Islamabad on Monday.
Maria, 34, was found collapsed and unconscious in the bureau and was rushed to hospital, but medical teams were unable to save her.
In a career spanning more than a decade with Reuters, Maria was always on the move, reporting from some of the world's most dangerous places with a calm authority that other, more experienced journalists could only admire.
She was driven by a hunger to understand what made human beings tick, be it during the throes of revolution in Libya or in the pre-dawn calm of southern Pakistan as Sufis cleansed a revered shrine with rose water before their ecstatic rituals began.
As friend and colleague Peter Graff put it: "Empathy wasn't just a skill she deployed for her craft. It burned in her white hot. It is what sustained her legendary stamina for work, play and learning."
The daughter of Russian expatriates, raised in Japan and writing in her third language, English, Maria joined Reuters in Tokyo in 2001 and subsequently worked in London, Singapore and Seoul as part of the graduate trainee program.
She was posted to Russia from 2002 to 2005, where she covered the early years of the Putin presidency, the Moscow theater siege and a spate of bomb attacks by Chechen rebels across the region.
She became Chief Correspondent in Central Asia, in 2005, reporting on Uzbekistan's crackdown on opposition protests, Kyrgyzstan's revolutions and instability in Tajikistan.
Maria did a stint in Afghanistan during the 2009 presidential election and later went on assignment to Iraq. Her eye for telling details helped her to build understated yet powerful accounts of complicated and distressing events.
She moved to the London editing desk in 2010, where fellow editors remember her as an open, engaging friend who combined warmth with a fierce commitment to getting news out quickly and accurately.
Maria spent much of 2011 covering the war in Libya, putting her hand up to travel to Tripoli despite the attendant risks.
Reuters correspondent Michael Georgy, who first met her during one of those assignments, recalls her as being "tough as nails, very funny, sweet and crazy."
When the NATO bombs fell, there was no panic. Instead Maria was at her computer with urgent news ready to file, eager to be one step ahead of the competition.
"Downtown, we took great delight in outfoxing (former Libyan leader Muammar) Gaddafi's agents so that we could get critical quotes from a terrified population," Georgy writes. "It was wonderful teamwork and Maria was like a tsunami."
Maria became UK chief correspondent and, having lived on the road for so long, put down roots of a kind by buying a flat in London. One problem was that she barely had any furniture of her own, and was thrilled when a colleague gave her an Afghan stool as a present.
The roots did not tie her to London for long, however, as curiosity and compassion drove her overseas again, this time to her final assignment based in Pakistan.
Colleagues in Islamabad stayed in the office late into the evening on Monday, receiving well-wishers and reminiscing about Maria's sense of fun and her rare gift for storytelling.
"She was a great boss; warm, with a big heart and someone who really cared," said Katharine Houreld, Reuters correspondent in Pakistan and Afghanistan.
"Maria would cast her eye over your story, immediately see what it needed and make very gentle suggestions so that it felt like you hadn't received any suggestions at all."
Stephen Adler, Editor In Chief, Reuters News, added: "All of us at Reuters mourn the untimely death of our beloved colleague Maria. She was one of our finest journalists, combining fearlessness with an upbeat enthusiasm that inspired confidence, respect and affection from everyone around her. She will be deeply missed."- Reuters