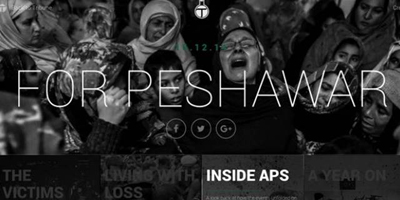 JournalismPakistan.com August 17, 2016


ISLAMABAD - The Express Tribune has been shortlisted as a finalist for the 2016 Online Journalism Awards.
The paper was nominated for its story 'For Peshawar' published on December 16, 2015, marking the first anniversary of the terrorist attack on Army Public School in which 147 people, mostly students were killed.
The Express Tribune reported Wednesday its story was nominated for the 'Planned News/Events category. It was collaboration between the paper and the ICFJ-Knight Fellowship.
The story is an online memorial for the victims, as well as an in-depth analysis on how events unfolded on December 16, 2014, and what happened in the year that followed.
The Tribune is one of the few non-US publications to be named finalists. The announcement about the awards was made by the Online News Association (ONA).
"Encouragement from our peers across the world makes all the hard work worthwhile. We want to dedicate this nomination to all those who lost their lives in the Army Public School attack," said The Express Tribune publisher Bilal Lakhani.
"All of us at the Tribune are very excited over the shortlisting of our story on the Peshawar massacre," said The Express Tribune Editor Kamal Siddiqui.
"It was a difficult and heart-wrenching story to do but as journalists, it is our job to tell the story as best as we can. In this, the work done by our Labs team was outstanding and we are proud to be the only South Asian news organization to be shortlisted. For us, this recognition will encourage us to do even more path-breaking work in the days to come."
The winners will be announced at the 2016 ONA Conference and Online Journalism Awards Banquet on September 17, in the United States.
Related post from JournalismPakistan.com Archives:
Dawn and Express Media Groups among 63 finalists for Data Journalism Awards