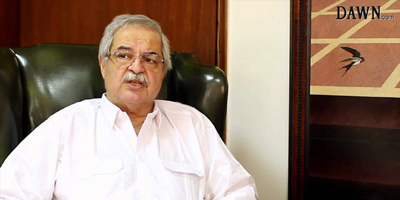 JournalismPakistan.com December 21, 2015


MUMBAI: The Observer Research Foundation, which hosted Pakistan's former Foreign Minister Khurshid Mahmud Kasuri in Mumbai despite protests, has asked Maharashtra government to provide security to Hameed Haroon, CEO of Dawn Media Group.
"The Observer Research Foundation Mumbai has invited Hameed Haroon, CEO of the Dawn Media Group of Pakistan, to deliver a talk at our office on December 23. The subject of the talk is 'India and Pakistan - Reconciliation through Rediscovery of the Shared Past' and we have sought protection for him," ORF chairman Sudheendra Kulkarni said.
Haroon has been an ardent advocate of peaceful and good neighborly relations between India and Pakistan. He is also a strong voice for the security and protection of the rights of Hindu, Sikh, Christian and other minority communities in Pakistan," Kulkarni said.
Coinciding with the talk by Haroon, and in collaboration with him, ORF will launch two important new initiatives - 'Mumbai-Karachi Friendship Forum' and 'The Sindh Research Project'.
Kulkarni said he has written a letter to Chief Minister Devendra Fadnavis requesting for adequate security at the time of Haroon's talk at the premises of ORF Mumbai.
He has also requested the government to provide some security to Haroon during his stay in Mumbai. A copy of the letter has also been sent to Mumbai's Police Commissioner Ahmad Javed, he said.
The letter says: "Our request is prompted by the unfortunate and condemnable episodes in recent months, when the Shiv Sena successfully carried out its threat to get Pakistani ghazal singer Ghulam Ali's concert in Mumbai cancelled, and also (unsuccessfully) threatened us to cancel the function to launch a book by Kasuri."
Kulkarni was sprayed with black paint by Shiv Sainiks for organizing Kasuri's book launch here in October this year.
"The Sena has openly stated that it would not permit any cultural, sports or academic event in Mumbai featuring Pakistani citizens. Its threat is illegal and the government has a duty to provide protection to organizations holding such programs, especially when such programs have the specific purpose of promoting better relations between India and Pakistan," Kulkarni said.
"I may add here that our decision to invite Haroon for a talk is completely in alignment with the recent decision taken by the government, headed by Prime Minister Narendra Modi, to begin 'Comprehensive Bilateral Dialogue' with Pakistan.
"Promotion of people-to-people contacts is an important and integral part of the 'Comprehensive Bilateral Dialogue' process," he said.
"You will surely agree that Haroon's talk, and the launch of the 'Mumbai-Karachi Friendship Forum' and 'The Sindh Research Project' are useful steps in the direction of enhancing the much-needed peace promoting people-to-people exchanges between India and Pakistan," Kulkarni said in the letter to Fadnavis. - PTI