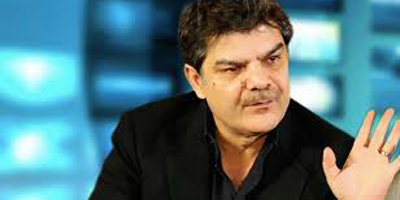 JournalismPakistan.com March 20, 2015
ISLAMABAD: Mubasher Lucman, popular anchor of program 'Khara Sach' on ARY News, has written a letter to the British government seeking registration of a case against MQM chief Altaf Hussain.
In the letter, Lucman said that Hussain and his party were threatening him and his family; therefore he decided to write to the British government.
"He (Altaf Hussain) is a British citizen and I've informed the British government in the letter that he is threatening us and stopping us from doing our professional duties," he said while talking to ARY News.
Lucman said that he has also dispatched a list of evidences including audio and video clips against Altaf Hussain to the British government and was collecting more to hold him accountable in the court.
"I recently visited London and met numerous parliamentarians and media persons there. I informed them that their tax payers' money was being spent on a person who is directly involved in spreading chaos and terrorism in Pakistan," he said.
He said that he was not doing his show in protest as they (the MQM) have held protest demonstrations against him for exposing them. "They (the MQM) threaten the cable operators, the channel's management and others for exposing them ….. now the whole world knows that they are involved in extortion, Baldia factory fire and target killing," he said.
Referring to a joint investigation team report, Lucman said that he and numerous other journalists were on the hit list of target killers being backed by MQM.