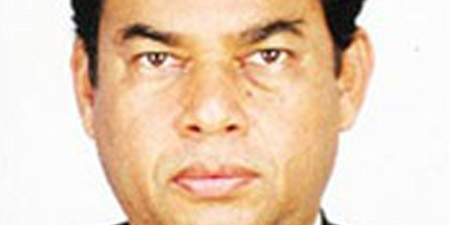 JournalismPakistan.com December 01, 2016


The International Federation of Journalists (IFJ) and the Bangladesh Manobadhikar Sangbadik Forum (BMSF) Thursday welcomed a court verdict on November 30 convicting and sentencing nine persons to life in prison for the 2004 murder of journalist Manik Saha (pictured).
The Khulna Divisional Fast Track Tribunal Judge M A Rob Hawladar delivered the verdict in the case which had been under trial since June 2008. The court also fined convicts Akram Hosain Hawladar, Ali Akbar Shikdar alias Shaon, Nuruzzaman, Mithun, Suman, Sattar alias Disco Sattar, Bellal alias Bulbul, Saka alias Sakawat Hossain, and Sarwar Hossain alias Saro Tk 10,000 each.
Among the convicts, four are at large whereas five were sent to jail. Among 14 accused, two were acquitted and three - Abur Rashid, Altaf and Mahfuz - were killed in crossfire incidents.
Saha, a journalist with New Age daily and BBC, was killed on January 15, 2004 while returning home from covering a meeting of the opposition Awami League. Saha was decapitated and killed instantly when unidentified assailants threw a hand-made bomb at him after stopping his rickshaw.
Born in 1956, Manik Saha began his career as the Khulna district correspondent of the Bangla daily Sangbad in 1982 and served as the president of Khulna Press Club and had also worked for Ekushey TV.

The IFJ said: "We welcome the conviction and sentencing of nine murderers of journalist Manik Saha and express satisfaction that justice has been delivered despite taking a long time. The conviction has sent a positive message and the IFJ demands that Bangladesh speed up investigation and prosecution in murders of others journalists and bloggers to end the prevailing impunity."

According to the IFJ Killed List, 47 journalists and seven bloggers have been murdered since 1995 in Bangladesh, yet there have been only a few convictions making it a country with concerning level of impunity in crimes against journalists. - IFJ media release