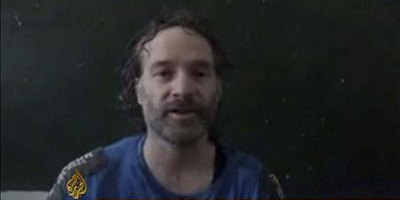 JournalismPakistan.com August 25, 2014
Al Qaeda-linked militants in Syria on Sunday freed an American writer missing since 2012 following what officials said were efforts by the Gulf Arab state of Qatar to win his release.

U.S. Secretary of State John Kerry said in a statement that Peter Theo Curtis had been held by Nusra Front, al Qaeda's official wing in Syria whose rivalry with militant group Islamic State has fueled war among the insurgents themselves.

President Barack Obama, who was briefed on Curtis' release, "shares in the joy and relief that we all feel now that Theo is out of Syria and safe," the White House said.

"But we continue to hold in our thoughts and prayers the Americans who remain in captivity in Syria - and we will continue to use all of the tools at our disposal to see that the remaining American hostages are freed," the statement added.

News of Curtis' release emerged just days after the Islamic State group posted a video on the Internet showing one of its fighters beheading American journalist James Foley, who was kidnapped in Syria in 2012.

The United Nations said in a statement "it can confirm that it facilitated the handover of Peter Theo Curtis. He was handed over to UN peacekeepers in Al Rafid village, Quneitra, the Golan Heights, at 6:40 p.m. (local time) on 24 August 2014. After receiving a medical check-up, Mr. Curtis was handed over to representatives of his government."

A senior U.N. official said the negotiations for Curtis' release were handled by the Qataris.

White House national security adviser Susan Rice said in a statement that Curtis, 45, was "safe outside of Syria, and we expect he will be reunited with his family shortly."

Curtis is an author and journalist who published books under the name Theo Padnos. His family said in a statement that he changed his name legally to Peter Theo Curtis after he published a memoir called "Undercover Muslim: A Journey into Yemen." The name change was to make it easier to travel in the Muslim world, the family said. - Reuters