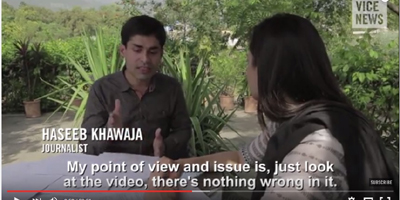 JournalismPakistan.com January 26, 2016


ISLAMABAD - Academy and Emmy Award winning filmmaker Sharmeen Obaid Chinoy has produced another powerful documentary - 'The Kohistan Story: Killing for Honor' - for Vice News UK and Vice News Canada. It is based on journalist Haseeb Khawaja's investigative work on Kohistan Video Case (honor killings). The movie was released on VICE News.

According to Khawaja, the complex Kohistan Video Case is Pakistan's mega human/women rights' case which is still pending in court. He said that in Pakistan, Ms. Chinoy is the only one who not only acknowledged his selfless journalistic and social efforts but also featured his interview in her documentary.

Ms. Chinoy thanked Khawaja on Twitter and said "the work you do is very important regarding honor killings."

On the other hand presenter of the documentary for VICE News tweeted to Khawaja: "Thank you Haseeb Khawaja for your time and help in making sense of this convoluted case."

Khawaja has proved by reinvestigating the Kohistan Video Case that all the four girls shown in the video along with the fifth girl were murdered (slaughtered). They were not presented before the Fact Finding Commission sent by the Supreme Court of Pakistan. Instead girls who resembled the real ones were shown to sink the case.
See the film here