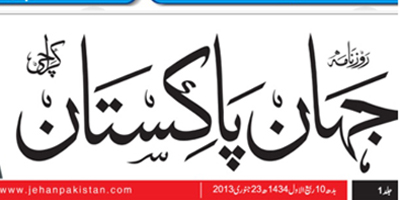 JournalismPakistan.com June 14, 2013
LAHORE: Less than eight months after its launch, managers at Urdu-language daily Jehan Pakistan have started forcing some staff to resign.

Insiders tell JournalismPakistan.com the newspaper's magazine editors in Lahore and Islamabad were asked to submit their resignations which they did. The general manager marketing also had to leave in somewhat similar circumstances.

Several other staff members are being asked to resign or get booted out, those aware of the development say.

"The management perhaps plans to lay-off high salaried staff and bring in low-paid employees in their place," a journalist with the paper said.

Jehan Pakistan, a publication of the University of Lahore, first hit the newsstands in Karachi in November 2012 and began publishing from Lahore the following month. The paper came out from Islamabad in January this year.

The newspaper suffered a setback in December when its CEO Abid Abdullah left the organization. He had helped put together the entire launch team but was blamed for hiring staff at exorbitant salaries.

Meanwhile, the management is now set to launch its DM News Television channel soon, test transmission of which is currently on.

Some employees believe staff at the paper is being cut down to pump as much money into the channel as possible.

There are reports former Interior Minister Rehman Malik has shares in the channel.