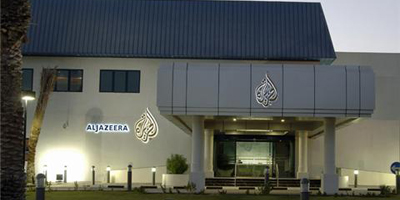 JournalismPakistan.com February 10, 2014
DOHA: An executive of pan-Arab satellite network Al Jazeera said Egypt's arrest of three of its journalists for allegedly assisting a "terrorist organization" shows Cairo is bent on suppressing all views other than its own.
The charges implied the three had had unlawful contact with the Muslim Brotherhood, which Egyptian authorities have banned and sought to crush since the army toppled Islamist President Mohamed Mursi in July after mass protests against his rule.
Qatar-based Al Jazeera has described the allegations against Australian Peter Greste, Canadian-Egyptian Mohamed Fahmy and Egyptian Baher Mohamed - who were detained in their Cairo hotel on December 29 - as "absurd, baseless and false".
Egypt's public prosecutor said last month he would put an Australian, two Britons and a Dutch woman on trial for aiding 16 Egyptians belonging to a "terrorist organization", referring to all as Al Jazeera correspondents. The network told Reuters it had no Dutch or British correspondents in Egypt.
Heather Allan, input manager at Al Jazeera English, said the three might spend up to two years in an Egyptian prison before a court date is set.
While there were strains between Qatar and Egypt over the Muslim Brotherhood, branded by Cairo's military-backed authorities as a terrorist group, the three journalists' situation had more to do with the freedom of the press, Allan told Reuters in an interview at Al Jazeera's Doha headquarters.
"We just happen to be a very convenient target because we are watched widely there; I think we have the most name recognition," she said.
"But they (the government) have also put other journalists from local media in jail ... All other voices are being shut down, no matter what that other opinion is until you are left with just one voice."
The public prosecutor said the accused had published "lies" that harmed the national interest and supplied money, equipment and information to the 16 Egyptians.
The foreigners were also accused of using unlicensed broadcasting equipment, which Allan said included standard gear used by any journalist such as a camera and a notepad.
The Brotherhood renounced violence in the 1970s and said recently it remains committed to peaceful political change, denying accusations of links to terrorism. - Reuters