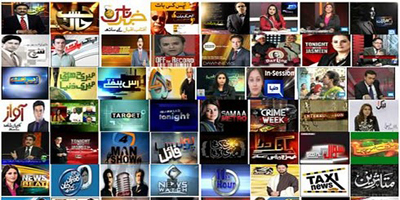 JournalismPakistan.com May 16, 2013 By Chatterbox

LAHORE: It's been a fortnight or so, and I'm glad the elections are over; the polls brought the best and the worst out of people, especially journalists, so-called journalists, bloggers and other habitual social media keyboarders with an opinion on any and everything.
The important thing I learned during this time is that our media certainly cannot refrain from labeling what they don't like, cannot understand, don't want to understand, or cannot relate to. So they bring out the most acidic venom in the name of analysis or commentary, even stooping so low as to name calling and class pegging.
Problem is our younger generation of journalists is too stuck up in their self-importance to realize that they are raping the profession left right and center with their enlightened spirit of so-called media freedom by following the example of some so-called iconic media trendsetters who sound more and more like the hockey commentators of yore than anchors. This also applies to remarks and observations by those very same individuals on social media, especially tweets and Facebook postings.
With power comes great responsibility or so I have been taught by my ustads and seniors. The power of the pen (typewriter/computer/laptop/blogging/social media for those of you who want to be specific) has to be used responsibly if one is indeed a member of the journalistic fraternity.
Pretty disgusted and frustrated, therefore, when I observed Pakistan's media blatantly label Imran Khan's Tehrik-e-Insaf party and his followers with all sorts of names and accusations that shrieked of bias, prejudice, uncalled for and cheap cynicism and even hatred while repeatedly targeting and playing upon the darker side of social discrimination.
Frankly, all I could see was a lot of ignorance, arrogance, jealousy, and envy that amply demonstrated just how ugly we and our media could get.
I'm no fan of Imran Khan, especially after that selfish speech he made right after Pakistan won the 1992 Cricket World Cup, but even he needs a break. Furthermore, despite trying very hard to be gracious, I still find some of his views rather vague and misguided, especially when it comes to the threat of the Taliban, the dire situation of the country's economy, rising inflation, and especially law and order. Certainly much more clarity is needed about his vision of 'Naya Pakistan.'
Then there are the whopping follies of his past associations.
Frequently I have been told that I have to learn to recognize the eccentricities and unusual way of reckoning of some of my Pathan brethren and learn to take it in my stride. I do not find such advice funny. I think Pathans are intelligent, witty, honorable and certainly more adventurous than those of us who do not come from Khyber Pakhtunkhwa. The result of the vote in KP proves this.
That said, I did not vote for Imran or his party. However, given the torrent of bigoted remarks, his many admirers and voters have had to suffer, I regret I might have made a mistake.
'Elitist, Burgers, Mommy-Daddy Wallahs, Showdeh, Puppoo Bachay, ABCDs' etc. are just some of the stuff these young folks have had to put up with just because, for the first time, they decided they wanted their voices and rights to be heard.
They voted.
I'm especially pissed with the 'Elitist and Burger' labeling.
What did so-called celebrated and senior anchors from PTV, Geo, Dunya, Samaa, and Waqt get by going after these better educated, better dressed and better earning upper-middle-class voters? Was it jealousy, envy, fear?
I want to ask them and all those who agree with them, is one a better person if one does not converse in English, does not wear jeans or trousers, shirts, and t-shirts, does not smell of expensive colognes or wear designer shades and drive a car rather a motorbike?
What's the big deal if they like burgers and go to McDonald's or KFC or those fancy restaurants and cafes some of you can only dream about... do you hold that against them?
Why the discrimination?
Let me explain what I'm getting at:
All people in the world do not wear shalwar kameez. Do the Saudis or Emiratis or Kuwaitis wear it?
I think not.
If those Saudis etc. also like fast food, and I know they do, does that mean they also fall into the 'Burger' or 'Mommy-Daddy' category?
Do the Balochis or Sindhis or Pathans like to speak Urdu?
I think not.
Do Punjabis like to speak Urdu?
I think not.
Then why this discrimination against those Pakistanis who can speak a problematic foreign language like English correctly?
Look at it this way... Do Americans know Urdu or Punjabi?
How many Pakistanis speak Arabic and I mean speak, not recite?
If they started speaking Arabic tomorrow and dressed in a Kandhura and Kafiyeh would you call them kazaks (Pirates), badus (bedouin) 'ragheads' or 'double zeroes' based on their clothes, language, and behavior?
It angers me that the media and the social media promote such ignorance.
It angers me even more that so-called journalists think it is their God-given right to be cynical towards their seniors who try to show them the way. Where is the respect?
My good friend Steve M. is a very outspoken person, and journalism is his world and universe. He lives and dreams media. He knows more about the nitty-gritty of journalism than anybody I know, and he's unselfish about his knowledge. Whenever and wherever he can, he passes on whatever he knows, especially to the younger lot. Many would testify to this.
I was disgusted, therefore, when one particularly obnoxious young cock took it upon himself to be 'smart' with Steve via the Facebook when my friend pointed out that the 'journalist' did not know the meaning of 'Elitist' and should look it up. Rather than accept his mistake with good grace this guy took it upon himself to be overly cynical to the point that I flipped. Enough is enough.
This guy, whom I have just learned spent some time mucking about in 'filthy rich' Brunei, thinks it is okay to be prejudiced and use such words as 'elitist, burger and mommy-daddy wallahs.' He who was lured away by the power of the moolah!!! With such views how can he call himself a journalist even on Facebook, remarking he did not know it was a forum where one had to be 'politically correct.'
In my opinion 'politically correct' means filtered information. Politically correct is a term used to hide behind the truth.
Is it not the job of a journalist to report rather than opine and that too with bias?
Some people never learn.
Anyway, that out of the way, I wish our media would really, really have the courage to report factually, starting with some real investigative work on the large-scale 'dhandli' and vote-rigging that took place at so many polling stations across the country rather than getting excited and using derogatory terms for segments of the voting public.
But then in Pakistan, everything is an Izzat ka masla!
PS: It is my sincere hope that my colleague Imran Naeem at JP does not edit this piece and, even more so, does not tell Steve about it until it is published.
(Chatterbox is a senior journalist based in Lahore. He has worked in the UK, Egypt, Dubai and Pakistan)