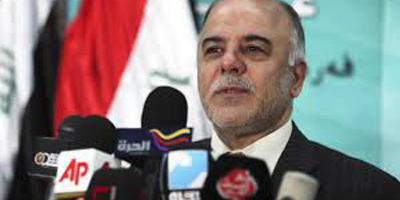 JournalismPakistan.com December 18, 2014
BAGHDAD: Iraqi Prime Minister Haider al-Abadi on Thursday ordered the withdrawal of all government lawsuits against journalists and media outlets, marking a departure from his predecessor Nouri al-Maliki, who was widely accused of using state institutions to target his political enemies.

The move reflects al-Abadi's "keenness to ensure freedom of expression...and his desire that the media have a big role in building the country," a government statement said, without providing details on ongoing cases. It went on to urge all media organizations to practice "responsible" journalism.

The Head of the Iraqi Journalists' Union, Mouyyad al-Lami, hailed the decree, saying it would help create a "safe environment for journalism in Iraq."

Al-Abadi, who assumed office in September, has promised reforms following the eight-year rule of al-Maliki, who was widely seen as monopolizing power. Al-Abadi recently retired a number of military officers and has moved to root out corruption in the security forces following their collapse in the face of the Islamic State group's summer onslaught. The Sunni extremist group captured much of northern and western Iraq after routing security forces loyal to al-Maliki's Shiite-led government.

Under al-Maliki, several journalists who had been critical of the government faced arrest warrants and lawsuits. Al-Maliki, whose rule alienated the Sunni and Kurdish minorities, has been widely blamed for the current crisis. - AP