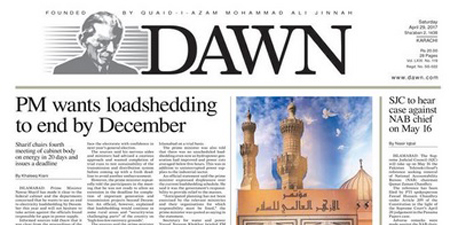 JournalismPakistan.com April 29, 2017


ISLAMABAD: An inquiry committee has recommended referring the roles of editor Zaffar Abbas and reporter Cyril Almeida in Dawn Leaks to the All-Pakistan Newspapers Society (APNS) for disciplinary action.
Geo News reported Prime Minister Nawaz Sharif Saturday approved the inquiry's recommendations and withdrew the portfolio of Tariq Fatemi, his special assistant on foreign affairs.
Rao Tehsin Ali, a Principal Information Officer at the Foreign Ministry, will be proceeded against under the E&D rules 1973 on the charges based on the report findings, Geo said.
The notification said APNS will be asked to develop a code of conduct for the media, "especially when dealing with issues relating to the security of Pakistan and to ensure that stories on issues of national importance and security are published by abiding to basic journalistic and editorial norms."
The inquiry was tasked to identify the source of the Dawn article, published on October 6 last year, which gave an account of a tense, high-level security meeting held between military and government officials. The article soured relations between ruling PML-N and the military, with army officials blaming PML-N for the leak and demanding the source be punished.
The inquiry, however, could not ascertain who leaked the information to the reporter but the blame was put on few people for failing to stop the publishing of the story.
According to Geo, the report stated that the publishing of the story was a failure on part of some government institutions including Information Ministry and Foreign Ministry.
The notification from the PM Office did not make any mention of former Information Minister Pervaiz Rashid. He was removed from his position on October 29.
Geo, quoting sources said Cyril Almeida sent at least 11 text messages to Rashid, requesting the government not to 'insult' by issuing repeated rebuttals of his story. The minister did not respond to the messages, it said.