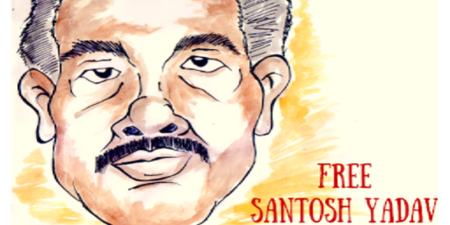 JournalismPakistan.com March 01, 2017


The International Federation of Journalists (IFJ) and the Indian Journalists Union (IJU) have welcomed the Indian Supreme Court's decision to grant bail to journalist Santosh Yadav after 17 months in prison on seemingly fabricated charges. The IFJ urged the government to drop charges against the journalist.
The Supreme Court (SC) on February 27 granted bail to Yadav, a journalist for Hindi daily Navbharat in Bastar of Chhattisgarh state. He was arrested for alleged Maoist links in September 29, 2015 and charged in February 2016 with rioting, criminal conspiracy and associating with a terrorist organization. The journalist has denied all allegations and his family and friends believe the charges were fabricated to harass him for his writings on human rights abuses by the police in the conflict-ridden state.
Yadav's bail pleas were rejected at the local court and in the High Court in 2016 before the appeal in the SC. Justice AK Sikri granted Yadav the bail but he has to visit the police station to mark his daily attendance and can't leave Chhattisgarh without authority's permission.
IJU President SN Sinha, Secretary General Amar Devulapalli and Press Council of India (PCI) member Amarnath Kosuri in a statement said: "We welcome the release on bail of Santosh Yadav by the Supreme Court. At IJU initiative, the PCI is shortly holding a special inquiry in Bastar to look into the cases of harassment of journalists in Chhattisgarh."
The IFJ said: "The IFJ welcomes the order of the Supreme Court of India to grant bail to journalist Santosh Yadav, who was kept in jail for 17 long months. The IFJ urges the Indian government to drop what appear to be trumped up charges against the journalist and ensure that no journalists are harassed especially in conflict areas such as Chhattisgarh where the media has the important duty of reporting the truth to ensure no human rights violations by the state and non-state parties." - IFJ media release