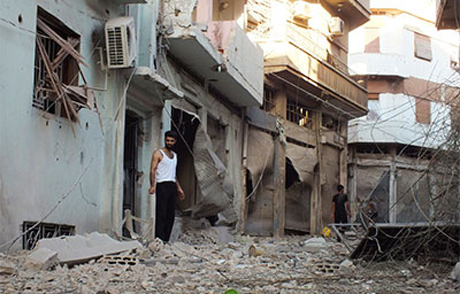 JournalismPakistan.com August 15, 2012
NEW YORK: A series of attacks against journalists in Syria over the past two weeks have included the killing of at least three journalists and the kidnapping of several others, the Committee to Protect Journalists said.
Pro-government media have borne the brunt of the recent attacks.
"We call on all sides in Syria to remember that journalists covering conflict are civilians and attacks against them constitute a serious violation of international humanitarian law," said CPJ Deputy Director Robert Mahoney. "Journalists have already paid a heavy price in Syria and are risking their lives daily to cover the news. They must be protected."
Hatem Abu Yehia, a camera assistant with the pro-government television station Al-Ikhbariya, is believed dead, his employer reported on Monday, according to the SANA state news agency.
Abu Yehia was kidnapped by rebels belonging to the Free Syrian Army in the Damascus suburb of Al-Tal on Friday along with his colleagues Yara al-Saleh, an anchor for the station, Abdullah Tubara, a cameraman, and driver Hussam Imand, according to news reports. The Al-Ikhbariya team was covering clashes in Al-Tal between rebels and security forces when they were kidnapped, news reports said.
A video posted by the Free Syrian Army shows a rebel spokesperson saying Abu Yehia was killed in government shelling of Al-Tal along with two rebel fighters, the Associated Press reported. The other two Al-Ikhbariya journalists and their driver appear in the video saying they are in good health and being treated well, according to the AP.
On Saturday, Ali Abbas, head of domestic news at SANA, was killed by unidentified gunmen at his home in Jdaidat Artouz in Damascus, according to a statement on SANA's website.
Abbas' employer said he was killed by "armed terrorist groups" as part of a campaign to silence government-aligned media, but provided no further details.
The Syrian Observatory for Human Rights reported that unidentified gunmen shot Abbas in his home, according to news reports.
(First published by Committee to Protect Journalists) See more here