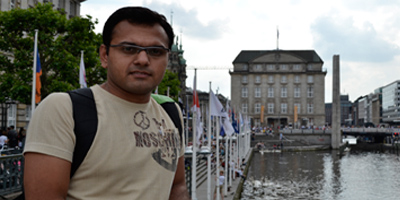 JournalismPakistan.com July 17, 2012
ISLAMABAD: Some of the young Pakistani journalists seem to be doing particularly well to hone their professional skills through courses and international opportunities.

One such journalist is Haroon-ur-Rasheed Baloch of Rohi TV, currently attending a two-month program on Multimedia and Online Journalism in Berlin, Germany.

Haroon, previously with the National Herald Tribune and the Online International News Network, feels he has gained valuable insight into the world of multimedia and online journalism.

"This training of mine at the Institute for Journalism has provided me useful knowledge about the development of new media in the advanced world," he told JournalismPakistan.com from Berlin.

"It will help me enhance my skills in new media, especially when it comes to digital age and modern media tools," he says.

Haroon tells us this course also involves internet politics, changing news trends, role of social media, mobile applications, electronic books (eBooks), photography, video editing and business models for news websites.

As part of the course the participants traveled across Germany to see how different media organizations were dealing with new media and technology to attract young audiences and build viewership.

"Media is in a phase of evolution since Internet came into our lives and after the invention of Steve Jobs's tablets and Google's androids, the world is literally in our hands. If traditional media does not evolve with changing trends, it might be difficult for it to survive in the days ahead," says Haroon.

Before he arrived in Germany, Haroon completed an online training funded by the US State Department, organized by the International Center for Journalists (ICFJ). A part of this training was online which was attended by around 80 journalists from South Asia.

On the basis of performance in this online training, 24 journalists were invited to attend a final conference in Colombo in April and among them were seven Pakistani journalists.

Haroon, who won three Aghai awards for Excellence in Journalism this year, has plans to start his own online portal in the future. "Yes I want to do this to disseminate information among youth more effectively," he says.

Seeing his enthusiasm and the drive that he has, it should not be difficult for this young man to achieve what he is aiming for.