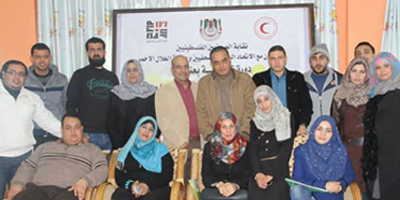 JournalismPakistan.com February 10, 2015
The International Federation of Journalists (IFJ) and the Palestinian Journalists Syndicate (PJS) have organized the second trauma training for journalists to manage stress effects in media after the recent war on Gaza Strip.
According to an IFJ press release, the two-day training was conducted by experts from the Palestinian Red Crescent Society (PRCS) and included theoretical and practical sessions. It is part of a larger program, focusing on the safety of journalists and founded by the Norwegian Ministry of Foreign Affairs.
The training consisted of different workshops of groups of 15 journalists each, coming from different media across the region. It aimed at enabling participants to release their stress by telling their personal experiences, which is especially important after the recent war on Gaza Strip. They also learned some techniques to reduce their stress and to take care of themselves through practical exercises. The third and final workshop is scheduled to take place next week at the headquarters of the PRCS in Gaza city.
Mrs. Manal Khamis, the training officer of the PJS-Gaza, said that "seventeen journalists were killed in the latest Israeli offensive on the Gaza Strip, dozens were injured and some have seen their houses destroyed or lost their dear ones, and all this have accumulated negative experiences and affected their work performance and reduced their activities."
These trauma trainings are an addition to the extensive safety training program the IFJ is implementing in Gaza Strip for the last four years. The latest trainings were organised last month where 30 journalists participated in two safety trainings organized by the PJS.
Photo Credit: Palestinian Journalists Syndicate (PJS)