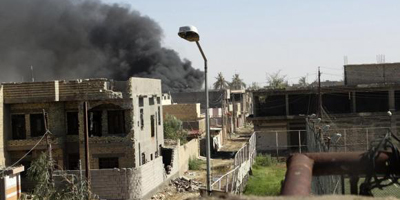 JournalismPakistan.com January 28, 2015
The International Federation of Journalists (IFJ) and its regional affiliate the Iraqi Journalists Syndicate (IJS) have condemned the killing of Iraqi photographer Adnan Abdul Razzaq, allegedly murdered by the Islamic State (IS) in Mosul, and reporter Ali Ansari, fatally hit last Friday while covering the battles between the Iraqi army and the IS in Mykdadyah, north of Baghdad, says an IFJ Press Release.
According to media reports, photographer Abdul Razzaq working for Sama Mosul channel was allegedly shot dead in Mosul by the IS last weekend.
Ansari was killed last January 23rd when he was caught in a crossfire between the Iraqi army and the IS that took place in Mykdadyah, North East of Baquba, in Diyali province. Two other media workers were wounded in the attack – journalist Mustafa Hamid and cameraman Qusay Sahib, both from Iraqiya state television.
In presenting the IJS's condolences to Ansari's family and friends, IJS president Moaiad Al Lamy said, "The IJS urges all journalists working in the country to exercise maximum caution while performing their professional duty."
"The escalation of violence that has now hit the Middle East is getting unbearable," added IFJ's president Jim Boumelha. "The International Federation of Journalists is putting a considerable effort to support its member unions in the region to protect their journalists, We extend our condolences to these killed journalists' family and friends. This latest outrage underlines the massive efforts needed to create the best conditions for the journalists so they can do safely their daily job. "
Ali Ansari is the first journalist killed in Iraq in 2015 and the third one in the Middle East, after the killing of reporters Khalid Mohammed al-Washli in Yemen and Aqil Mohammad Waqar in Afghanistan in the past weeks. In 2014 eight journalists were killed in Iraq.
Iraq remains as one of the world' most dangerous countries and the Middle East the second most dangerous region with 31 casualties of media workers in 2014. The IFJ has been implementing a major safety training programme in the region in recent years and continues to provide training in Iraq.