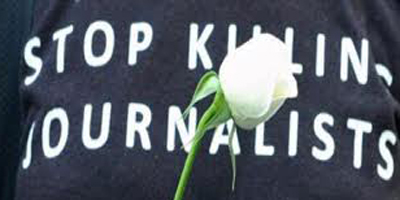 JournalismPakistan.com May 28, 2013
The International Federation of Journalists joins affiliate the Pakistan Federal Union of Journalists (PFUJ) in strongly condemning the killing of a journalist in Bahawalnagar on May 24.
According to reports, Ahmed Ali Joiya, 25, a reporter for several local newspapers and magazines, had been coordinating with the local police on a crime story he was working on.
Police said, Joiya had received threats from Maqbool (Kooli Sassi), a known criminal. On Friday Joiya was in a market in Bhangrana village when unidentified men shot Joiya, immediately killing him. Two street vendors were also injured in the attack. Joiya is survived by a wife and two children.
In a statement, PFUJ President Pervaiz Shaukat called on the police to arrest the culprits immediately and bring them to justice. "Joiya was a brave journalist who was working on exposing criminals. He has been killed in the line of duty," he said.
PFUJ Secretary General Amin Yousaf also condemned the killing. "Joiya was a young journalist who had the vigor to expose the wrongs in the society. His efforts are praiseworthy."
Yousaf called on the law enforcement agencies to bust the criminal gangs and arrest those involved in the killing.
The year 2013 is proving to be one of the deadliest for Pakistan's journalists. This latest killing is an indictment on the authorities in Pakistan who continue to allow a culture of impunity to flourish.
"Journalists must be allowed to do their job of scrutinizing the powerful and holding them to account. We call on the government to demonstrate its commitment to press freedom and investigate this crime with vigor," IFJ said.