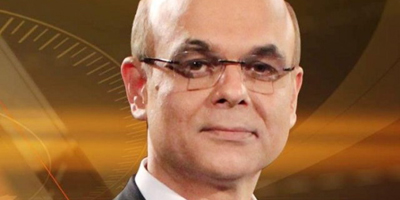 JournalismPakistan.com November 09, 2012
ISLAMABAD: Muhammad Malick, whose Dunya TV program is to go off air next week reportedly because of outside pressure, said in a tweet Friday "anchoring of principles was way more important than anchoring any show."
He made it clear he had "never bowed to any pressure before -no matter what hue - and never will."
JournalismPakistan.com reported November 6 his program 'Dunya @ 8 with Malick' would be discontinued (Malick show to go off air).
His 8:00 pm slot could now go to Sana Bucha of Leiken fame who quit Geo last week (Sana parts ways with Geo; joins Dunya).
Interestingly, Malick had cited an English newspaper he is tasked to bring out as the reason for his program's discontinuation. However, it is now widely believed there is more to it than just the newspaper. He had actually upset the army through one of his shows, observers point out.
Malick, an anchor and group editor publications-English at Dunya, joined the group in July from The News.
(Photo courtesy: tribune.com.pk)