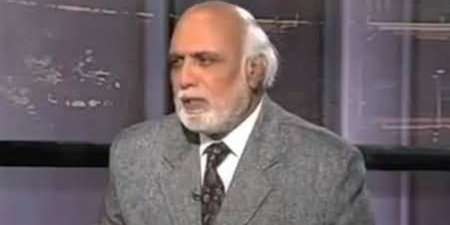 JournalismPakistan.com March 17, 2017


ISLAMABAD: Columnist Haroon Rashid Friday termed Cyril Almeida an irresponsible and careless journalist who is oblivious to the requirements of national security.
Overall in his column in Dunya newspaper – Khuda Kay Liyaee Pakistan ko Maaf Kar Do – Haroon discusses the alleged irresponsible attitude of politicians while managing issues of national security.
Almeida's October 6, 2016, story - Act against militants or face international isolation, civilians tell military – in Dawn led to tensions in civilian-military relations.
He was briefly put on the ECL before being taken off. The government formed a commission under a retired judge to probe the story. The report of the commission is still being awaited.
Since the publication of the story, Haroon has been criticizing Almeida in his columns.
According to the columnist, probe into Dawn Leaks is complete, and that the government wants to push the "filth" under the carpet. He wrote that if the writer (Cyril Almeida) is punished, the news industry would be angry. "Knowledgeable people know that two or three persons close to the Prime Minister have been found guilty (in Dawn Leaks probe)," according to Haroon.
He wrote there are careless journalists in other countries also and "Cyril Almeida is one of them." He maintained that English newspapers not only publish articles against Pakistan's security matters, they also take pride in it.
The columnist then turned his guns on journalists who have established NGOs.