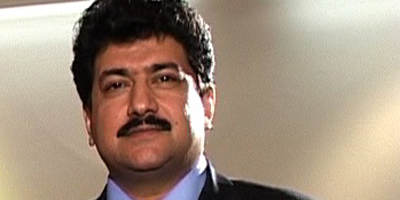 JournalismPakistan.com June 01, 2015
ISLAMABAD: Geo News anchor Hamid Mir Monday appeared before a judicial commission probing rigging allegations in the 2013 elections and submitted substantial evidence.

Najam Sethi also appeared before the commission as a witness and was cross-examined by PTI and PMLN lawyers. Mir presented a stamped ballot book, a CD and a list of his programs conducted on rigging before the commission. A three-member judicial commission headed by Chief Justice Nasir-ul-Mulk has been probing the allegations.

To questions from PTI lawyer Hafeez Pirzada, Mir said that he conducted more than three talk shows on rigging between May 11 and the end of the same month. "I said it more than once in my programs that the rigging took place not only in four provinces but also in tribal areas," he said.

Mir said that he showed evidences of rigging in his talk shows and presented a lot of rigging material including ballot papers, stamps and complete ballot books in some cases.

"I also showed statements of different candidates on my show who explained how the elections were rigged," he said, adding that he also mentioned a report prepared by FAFEN on the elections that showed that even more than 100 percent votes were cast in certain constituencies.

Mir said that a candidate namely Shah Abdul Aziz also came on one of his shows with a full bag of ballot papers. Video clippings of three separate programs conducted by Mir were also played in the court room wherein he claimed the rigging took place across the country.

Mir said that he also showed some ballot papers and ballot books on his show, Capital Talk, many times but nobody from the election commission contacted him to inquire about the material.

"All these ballot papers are stamped and the candidate must have won with a big majority in this constituency," head of the Judicial Commission Justice Nasir-ul-Malik quipped after going through a stamped ballot book that was handed over to him by Mir during the hearing.

To a question from PPP lawyer Aitzaz Ahsan, Mir said that his sources are confidential and he cannot reveal their names as to where he got all the material from. Justice Nasir-ul-Mulk also said that Hamid Mir being a journalist has legal protection to keep his sources confidential.

Najam Sethi, responding to a question from the PTI lawyer said that last cabinet meeting took place on April 24 under his chair and seven to ten days before polling his powers as caretaker chief minister started to slip away.

Sethi also admitted that one of his nieces was also elected as MNA on reserved seat on PMLN ticket. He, however, said that he appointed Javed Iqbal as chief secretary Punjab after getting consent of PTI chief Imran Khan.