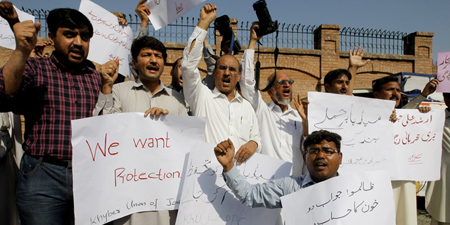 JournalismPakistan.com November 29, 2016


ISLAMABAD - The government seems to be agitated over Pakistan being on the list of countries considered dangerous for journalists.
On Monday a written answer to a question regarding Pakistan being the fourth most dangerous country in the world for media persons, hinted at questioning the "statistical veracity" of International Federation of Journalists (IFJ).
The question by PPPP MNA Dr Shazia Sobia was originally asked during the 35th session of the National Assembly in September when Senator Pervaiz Rasheed was the minister for information and broadcasting. He had to step down over what is now known as Dawn Leak.
Without entering into any discussion regarding statistical veracity of the IFJ's report, the written reply said the Brussels-based organization has ranked Pakistan as the fourth vulnerable country for journalists on account of reported killings since 1990. It added the IFJ has reported 2,297 journalists and media workers killings in various countries during the last 25 years, with Iraq ranking as one of the most dangerous countries.
Maintaining that the fight against terrorism symbolizes the collective will of the nation, the reply says "organizations like IFJ must realize that the circumstances are not of our own making. We are rather a victim."
The reply says a national plan of action has been "chalked out by the government" to safeguard the "precious lives" of media workers. The action plan includes formation of ministerial committee on media security, life insurance policy for media persons, compensation to affected journalists, setting up of hotline for journalists, and urgent hearing of court cases of affected journalists.
Additionally it said efforts are underway to legislate Journalists' Welfare and Protection Bill for tabling in the Parliament.