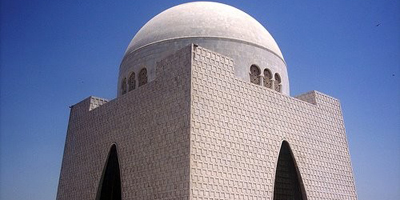 JournalismPakistan.com May 22, 2014
ISLAMABAD: The contract of a private security agency has been cancelled after Sur-e-Aam, an ARY TV program, reported that the basement staircase of Quaid-e-Azam's mausoleum was used for "illicit/immoral activities…in connivance with the employees" of the agency.
Pervaiz Rashid, Minister for Information, Broadcasting and National Heritage, told the Senate Wednesday that ARY TV channel's Sur-e-Aam, telecast on February 22 reported that the "basement stairs were used for illicit/immoral activities by a couple in connivance with the employees of a private security agency."
During the question hour, Senator Hafiz Hamdullah of JUI-F asked if a brothel in the "basement of Quaid-e-Azam's Mazar was unearthed in February 2014 and "whether any investigation has been made in the case…."
Saying that there is "no brothel being run in the basement of Mazar of Quaid-e-Azam", the minister listed the punitive action taken after the program was aired. These included terminating license of Murtaza Agency, suspending Executive Engineer of Quaid-e-Azam Mazar Management Board, and registering a case against Abdul Rasheed, supervisor janitorial, and Kamran, a security guard.
The contract of maintenance firm - Effaf Enterprises - was suspended but it obtained a stay order from the Sindh High Court, the minister added.