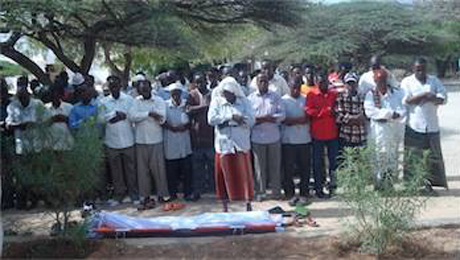 JournalismPakistan.com March 25, 2013
MOGADISHU: The Somali Sports Press Association is shocked to learn the sad news of the assassination of the central Somalia-based Radio Abud-Waq female newscaster Rahma Abdi who was shot dead by unidentified men armed with pistols in the Yaqshid district north of the capital Mogadishu on Sunday evening.
According to the AIPS website eye witnesses told the Somali Sports Press Association that two young men shot Rahma in the head and in the chest, before escaping.
"Two men killed the female journalist, they continued shooting on her until they were sure they had killed her and then they escaped. I cannot say who they were but they were masked and looked like terrorists," a resident who asked anonymity for security reasons told SSPA by telephone.
Colleagues at Radio Abdu-Waq who were reached for comment by the SSPA indicated that Rahma was in Mogadishu for her personal affairs and they didn't know the reasons behind her killing. The female journalist is the 3rdjournalist to be killed in Somalia this year.