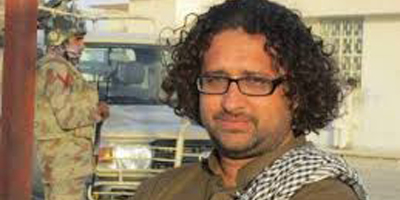 JournalismPakistan.com October 03, 2014
KARACHI: ARY News journalist Faizullah Khan, freed by Afghanistan authorities this week, has termed his detention as a frightening experience.
"I never want to go back to Afghanistan after my experience," he said. Faizullah was arrested in Nangarhar Province in April and later sentenced to four years in prison by a Jalalabad court for entering Afghanistan without valid papers. He admitted he was at fault but said he had no idea he would end up in Afghanistan. "I went to the tribal areas on an assignment to interview some Taliban leaders but I was shocked when my contacts led me into Afghanistan for the interviews as I didn't know the location and carried no passport with me," he said.
He was detained at a check post by Afghan intelligence officials after conducting the first interview in Nangarhar.
Faizullah, said that his time in Nangarhar Jail was difficult. "Although I was not tortured, the people there used to say negative things about Pakistan. The food was also very bad."