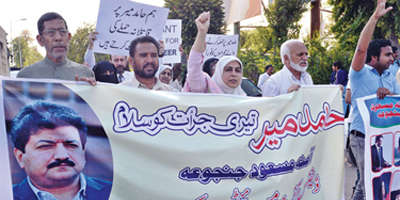 JournalismPakistan.com April 23, 2014
ISLAMABAD: The shooting of one of Pakistan's most famous TV presenters has highlighted the climate of "extreme fear" facing the country's media, journalists say, as hardliners of different stripes seek to silence dissenting voices.

Hamid Mir, host of Capital Talk, a prime time current affairs show on the Geo channel, was shot at least three times in his car in Karachi on Saturday.

It is not the first time the stocky, moustached Mir has survived an attempt on his life: last year police defused a bomb attached to his car in Islamabad.

Last month another high-profile presenter, Raza Rumi, survived a murder bid by gunmen in Lahore — though his driver was not so lucky. He was cut down in a hail of bullets.

"It was so traumatic to see him die in front of me, and that is my major worry — I don't want anybody to die because somebody is going to attack me again," Rumi told AFP from a Western country where he has gone with his family for safety.

Pakistan is regarded as one of the most dangerous countries in the world for media, with more than 50 journalists killed since 2001, according to the Committee to Protect Journalists (CPJ) campaign group.
For years reporters have lived with threats from militants such as the Tehreek-e-Taliban Pakistan (TTP) and complained of shadowy warnings from the country's powerful military and intelligence services.

Both Mir and Rumi have taken a stand on issues that many public figures in Pakistan shy away from for fear of inflaming influential — and sometimes dangerous — conservative forces.

Mir has been a critic of the Taliban and also, in more veiled terms, of Pakistan's powerful armed forces, particularly their activities in south-western Balochistan province, where they are blamed for the disappearance of hundreds of people with links to separatist groups.

Rumi has spoken out to defend minority religious groups and against the country's harsh blasphemy laws.

Criticizing blasphemy legislation was enough to get Punjab province governor Salman Taseer and minorities minister Shahbaz Bhatti assassinated within a few months of each other in 2011.

Attacks like these have scared many politicians into silence and the militants are trying to do the same with the "dozen, or even less than a dozen" journalists still willing to speak out, said Rumi.

"When you want to terrorize the media, you have to target a few people who are very public. You target one or two and if you are successful you terrorize the rest — then everybody falls into line," he said.

Omar R Quraishi, the editorial pages editor for The Express Tribune daily, agreed, saying the fact Mir and Rumi were targeted was testament to their influence.

"This is happening now because the militants are finding the space for them shrinking in the narrative and they attack the one institution they think is critical to that," he told AFP.

In January, three Express TV staff, part of the same group as the Express Tribune, were shot dead in Karachi. The TTP claimed the attack, saying Express had been spreading "propaganda" against them.
Quraishi said many journalists were now wondering where and when the next attack would come.

"It's a climate of extreme fear. The threats are from so many places, not just militants and military — if you work in a small town in Sindh or Punjab threats are also from local landlords and mafias," he said.

In Rumi's case, police said on Saturday they had caught six men linked to the sectarian militant outfit Laskhar-e-Jhangvi who had admitted attacking the journalist.

But even if the police have the right men, in Pakistan's sclerotic and dysfunctional legal system there is no guarantee they will be convicted and remain behind bars.

"There is one common thing to these attacks against (the media) — the culprit will not be punished," a senior media executive told AFP on condition of anonymity.

"There is a sense of impunity — if you kill a journalist, you won't be punished."

Prime Minister Nawaz Sharif has set up a special commission to probe the Mir shooting, but few in the media hold out hopes of it achieving much.

A similar investigation followed the killing in 2011 of Saleem Shahzad, who disappeared a few days after writing an article about links between Al-Qaeda and rogue elements in the Pakistani navy.

Before his death Shahzad told Human Rights Watch he had been threatened by intelligence agents, but the commission said it could not identify his killers.

This month the CPJ ranked Pakistan among the 10 countries where journalist murders are most likely to go unpunished.

The conviction of six men last month for killing Geo reporter Wali Khan Babar in 2011 was the first successful prosecution for the murder of a Pakistani journalist, according to CPJ.

But at a moment when the Pakistani media could unite to fight against this impunity, an ugly row has broken out over the Mir shooting.

Rival media groups have accused Geo of blaming the Inter-Services Intelligence (ISI) agency for the attack and giving India license to mount a "slur campaign" against the Pakistani military. - AFP