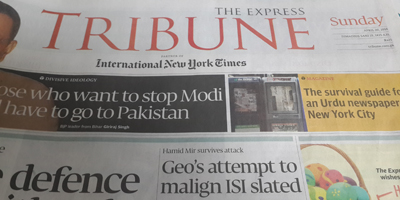 JournalismPakistan.com April 20, 2014
ISLAMABAD: English daily The Express Tribune was harshly critical of Jang Group Sunday for implicating the Inter-Services Intelligence (ISI) in a gun attack on Geo Television anchor Hamid Mir.
In a front page story headlined 'Geo's attempt to malign ISI slated', the paper said the allegations that ISI was responsible for the attack did not even take into account the fact that investigations had not even begun.
Mir was shot by unidentified gunmen in Karachi while heading to his office from the airport Saturday. He had flown in from Islamabad.
The paper said Geo TV's "campaign seems to be part of a particular propaganda which aims at portraying Pakistan as a country where security agencies are hatching conspiracies against their own countrymen."
Tribune pointed out that the channel continued to prove its poisonous accusation while continuously displaying Director General ISI's photograph.
"By attacking the country's premier intelligence agency with such force, Geo TV had not just damaged a national institution but also undermined the safety and security of Pakistan," it said.
The paper noted that a Jang Group employee demanded the DG ISI resign even before a case had been registered.
"The campaign is continuing despite a clear cut denial by the army spokesperson which shows that Jang Group is playing the game of some other power."