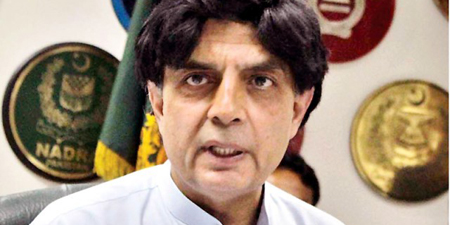 JournalismPakistan.com May 17, 2017


NEW YORK – The Pakistani government is increasingly clamping down on internet dissent at the expense of fundamental rights, Human Rights Watch said Tuesday.
The government should immediately end abusive state monitoring of internet activity, prosecute those committing violence on the basis of internet blasphemy allegations, and commit to upholding free expression for all.
On May 10, 2017, the Pakistan Telecommunication Authority (PTA) sent a text message to millions of citizens warning against sharing "blasphemous" content on social media and asking them to report such content.
On May 14, the Interior Minister Chaudhry Nisar Ali Khan (pictured) ordered the Federal Investigating Agency (FIA) to take immediate action against "all those dishonoring the Pakistan Army through social media."
"The Pakistani government's crackdown on online expression will put dissenting voices at a greater risk in an already toxic environment," said Brad Adams, Asia director at Human Rights Watch. "The government should focus on protecting those at risk of being attacked for their opinions instead of encouraging violence against them."
These new government measures threaten greater censorship, arbitrary arrests of critical internet voices, and violence by militant groups against religious minorities and critics, Human Rights Watch said.
The Pakistan Telecommunication Authority said that in response to its mass text messaging, it had already received 3,000 complaints regarding online "blasphemous" content.
As of April, the government had blocked 12,968 websites, according to the Ministry of Information Technology.
In March, the FIA arrested three people for posting allegedly blasphemous content online. The interior minister has also reportedly ordered the FIA to arrest social media users criticizing the army.
The Pakistani authorities have a long history of abuses against peaceful critics of the government and state security forces.
Pakistani and international human rights groups, including Human Rights Watch, have extensively documented intimidation, torture, enforced disappearances, and killings of activists and journalists. The Taliban and other armed groups have also threatened media outlets and assaulted and killed journalists and activists for their work.
Pakistan's "Blasphemy Law," as section 295-C of the penal code is known, carries a mandatory death sentence. Discrimination is permissible under the law against religious minorities, and the failure of Pakistan's federal and provincial governments to address religious persecution by militant Islamist groups effectively enables atrocities against those most vulnerable. The government seldom brings charges against those responsible for such violence and discrimination.
On March 7, the Islamabad High Court directed the Interior Ministry to ensure the removal of all alleged blasphemous material from websites in Pakistan, even if it required blocking access to all social media.
On March 14, Prime Minister Nawaz Sharif ordered a ban on all blasphemous material online. On March 16, Interior Minister Nisar Ali Khan termed "blasphemers as enemies of humanity."
The March measures and statements may have inspired a series of violent vigilante attacks related to blasphemy accusations.
On April 13, university students in Mardan, Khyber Pakhtunkhwa, stripped, beat, and shot a fellow student, Mashal Khan, inside the campus on accusations of blasphemy.
On April 21, a man who fled the country after he was accused of blasphemy 13 years ago and had recently returned to Pakistan, was killed in Sialkot. On the same day, police and a local imam stopped a mob in Chitral, Gilgit-Baltistan attempting to lynch a man with mental disability for allegedly uttering blasphemous remarks.
On May 4, police intervened to prevent a mob from killing a Hindu man accused of sharing blasphemous content on social media in Hub, Balochistan, although a child died from the mob's gunfire.
Pakistani law already adds to the hostile climate faced by journalists and activists, Human Rights Watch said. In August 2016, the government enacted a vague and overbroad cybercrimes law that threatens rights of privacy and freedom of expression. The law includes provisions that allow the government to censor online content, criminalize internet user activity, and access internet user data without prior judicial authorization.
Five activists – prominent poet Salman Haider, bloggers Waqas Goraya, Aasim Saeed, and Ahmad Raza Naseer, and social rights activist Samar Abbas – went missing or were taken away from different cities between January 4 and January 7. All five men were vocal critics of militant Islamist groups and Pakistan's military establishment and expressed their views on the internet. Their near simultaneous disappearances and the fact that the government immediately blocked access to their websites and blogs raised grave concerns about state involvement and resulted in popular protests.
Four out of the five – all but Samar Abbas – have since been released. Waqas Goraya went to the Netherlands after his release and alleges that the security forces tortured him "beyond limits," by punching, slapping, and forcing him into stress positions.
"Prime Minister Sharif has vowed to protect human rights, but is moving in the opposite direction," Adams said. "Protecting critical speech on the internet is the standard by which governments are now held to be considered genuinely democratic." – Human Rights Watch/Image: PakistanTV.TV