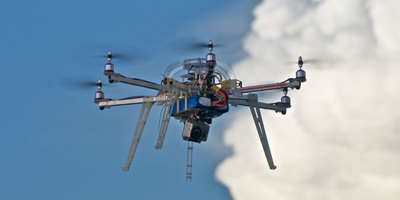 JournalismPakistan.com April 05, 2014
ISLAMABAD: It is now no more a surprise that technology is constantly changing the profession of journalism, fully exploiting every available avenue to reach audience worldwide in real time.
What's next? Drone journalism.
"The word 'drone' conjures up visions of huge military aircraft dropping bombs overseas, or of tiny machines flitting through buildings, spying on the occupants inside. Imagining a time when more than 30,000 of these unmanned vehicles will fill U.S. skies sounds like a scene from a science fiction novel but will soon be reality," according to Reporters Committee for Freedom of Press (RCFP), a nonprofit association dedicated to providing free legal assistance to journalists since 1970. "And using drones for journalism might sound even more far-fetched, but it's already happening."
On the other hand The Economist has termed drone journalism as "eyes in the skies". It says drones have offered "a bird's-eye view of civil conflict in Thailand, Venezuela and elsewhere. They let journalists capture scenes that previously would have put their lives in danger, and made it harder for governments to lie."
It added journalists used drones to cover protests in Bangkok in December, filming clashes without having to dodge police tear gas and water-cannon, or lumps of concrete hurled by protesters. "Drone footage published online to get around the Venezuelan government's control of traditional media has contradicted official estimates of low numbers at anti-government rallies."
The Economist says drones are helping journalists overcome logistical hurdles, too. "They have recently been used to cover fires raging in the Australian bush, and floods in southern England."
In February, according to RCFP, the Obama administration passed a law requiring the Federal Aviation Administration (FAA) to prepare the skies - and the courts - for commercial drones by 2015, and journalists already are working to integrate drone use into everyday reporting. "The University of Nebraska-Lincoln and the University of Missouri have integrated drone research into their journalism programs," says RCFP, adding that a small but growing number of journalists are joining the Professional Society of Drone Journalists, which has established an ethics code emphasizing the importance of "newsworthiness, safety and sanctity" of public spaces in drone reporting."
The RCFP says in 2011, a Texas hobbyist flew a remote controlled airplane with a camera over the Columbia Packing Co. meatpacking plant and saw that the company was illegally dumping pig blood into the Trinity River, which runs through Dallas. The hobbyist turned the images over to environmental regulators and the company was prosecuted and shut down.
The rules governing drone journalism are tighter in America than elsewhere, according to Economist. "Only hobbyists and the government can use them; commercial entities are banned. That does not, of course, mean that they are not used for newsgathering, just that the only footage available is shot by amateurs. When a building in Manhattan collapsed on March 12th, for example, drone footage shot by a passing local soon turned up on news sites."
Britain allows commercial drone flights, provided the machines do not stray far from their pilots on the ground, says the report in Economist. "But getting permission to use the machines in heavily populated areas is difficult, so they have mostly been deployed in the countryside. Australia is more permissive: Fox, a television network, has used a drone to cover cricket matches.
The article quotes America's Federal Aviation Administration as saying that it plans new, less restrictive rules, but fears that with drone-assisted journalism becoming commonplace, other legal fights are sure to flare up. "One about privacy looks inevitable, since today's laws were written when reporters moved in just two dimensions. The walls celebrities build round their houses will be useless once every paparazzo has a $500 flying camera."