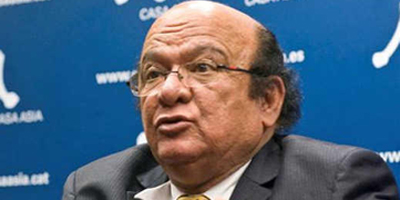 JournalismPakistan.com April 05, 2014
ISLAMABAD: Journalists and representatives of media associations and unions have expressed concern over death threats to Imtiaz Alam, editor of South Asian Journal.
In a statement on Friday, journalists and other media representatives said intolerance for diverse points of views had a bearing on media freedom and quality journalism. They said that edicts and threats continue to be hurled at the media and media persons, among them Alam, who also anchors a television talk show and is the secretary of the South Asian Free Media Association (SAFMA).

"The targeted attacks and death threats are meant to create fear among the democratic intelligentsia and the media persons. It is more disturbing that the state is failing in its responsibility to protect citizens and its writ," the statement said.
"Last year, 10 journalists were killed in connection with their work in Pakistan. Courtesy these killings, Pakistan has made it to the shameful club of the world's five deadliest countries for the media.
"We urge the media associations to take a joint stand on acts of violation of and threats to media rights and freedom of expression. Attack on one should be taken as an attack on all. It's time that the state and the government of Pakistan fulfilled their responsibility to their citizens protecting their fundamental rights of freedom of information and freedom of expression guaranteed in the constitution," the statement read.