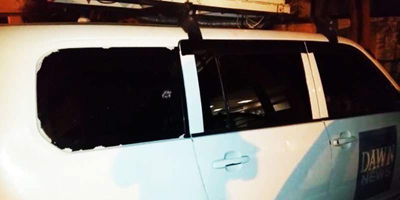 JournalismPakistan.com November 28, 2015


KARACHI: A DawnNews Digital Satellite News Gathering (DSNG) van was attacked Friday by unidentified gunmen that left one staff member injured.

Dawn.com reported the incident occurred in Karachi's Eassa Nagri area. It said the assailants on motorbikes fired straight shots at the van. Hassan Mateen, a technician was injured. He was shot in the shoulder and is said to be a in a stable condition, Dawn said. Cameraman Umar Shah said the attackers fired from the left side while the van was in motion.

Footage from the scene of the attack showed multiple bullets had penetrated the vehicle. The driving seat of the DSNG was covered in blood.

The attack took place at a time when security is quite in Karachi. It is not the first time television news gathering vans have been targeted in the port city.

In September a Samaa DSNG was attacked by gunmen on a motorcycle. There were no casualties.
Photo courtesy: Dawn.com