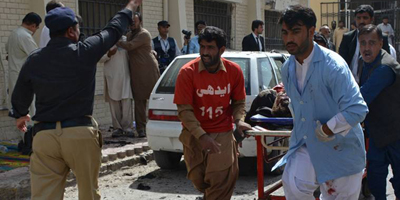 JournalismPakistan.com August 08, 2016


QUETTA: A suicide bomber targeted the emergency services ward at Quetta's Civil Hospital Monday, killing at least 70 people, among them two cameramen of DawnNews and Aaj Television while scores were injured.
Tehreek-i-Taliban Pakistan (TTP) splinter group, Jamaat-ul-Ahrar (JuA), claimed responsibility for the bombing which occurred at the gates of the building housing the emergency ward. The bomber struck soon after dozens of lawyers gathered at the hospital following the killing of the Balochistan Bar Association President, who was shot dead this morning.
Journalists present at the premises also came in the line of fire and a cameraman for DawnNews, Mahmood Khan, who was severely injured in the explosion, later passed away. Shehzad Khan, a cameraman associated with Aaj TV, was killed in the blast.
"The blast took place after a number of lawyers and some journalists had gathered at the hospital following the death of the president of the Balochistan Bar Association in a separate shooting incident this morning," said Balochistan Home Secretary Akbar Harifal.
The bomber struck as more than 100 mourners, mostly lawyers and journalists, crowded into the emergency department to accompany the body of Advocate Bilal Anwar Kasi, Faridullah, a journalist who was among the wounded, told Reuters.
Condemning the attack, Balochistan Chief Minister Sanaullah Zehri told local TV channel Geo News that Indian intelligence agency Research and Analysis Wing (RAW) was behind terror incidents in Quetta.
The CM shared this statement with the media before initial investigations into the blast were completed, and before the nature of the blast was confirmed.
Abdul Rehman, the director at the Civil Hospital, said the bombing killed 70 people, mostly lawyers. He said they were also treating 92 wounded in the explosion.
According to senior police official Zahoor Ahmed Afridi several lawyers including the former president of Balochistan Bar Association Baz Mohammad Kakar were injured. – AP/Reuters