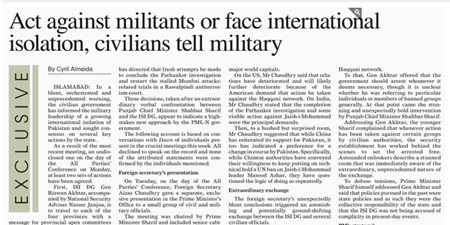 JournalismPakistan.com October 16, 2016


ISLAMABAD – Dawn reiterated Sunday it continues to stand by its October 6 story that rocked the government and the military.
In an editorial headlined 'ECL misstep' the paper said: "This newspaper continues to stand by the news item in question and robustly defend its right to report independently, without fear or favour."
The paper said: "The government can, of course, continue with an investigation into where the leaks came from if it so deems fit; Dawn is willing to cooperate in such an inquiry, but reserves its right to protect its sources."
The author of the story Act against militants or face international isolation, civilians tell military was senior journalist Cyril Almeida. He was put on Exit Control List by the government on October 10 for this story on a high-level national security meeting highlighting civil-military tensions.
His name was however, struck off the list five days later, following pressure from media practitioners, international press freedom watchdogs and others.
"With the removal from the Exit Control List of senior Dawn journalist Cyril Almeida's name, better sense seems to have prevailed," the paper commented.
"In resorting to the extraordinary measure of placing his name on the ECL, the government had set itself on an ill-judged course that would have had a highly adverse impact on this country's hard-won press freedoms, the independence of the media, and the public's right to stay informed."
Dawn said that given "the current government's oft-repeated respect for media freedom, the placing of a journalist's name on the ECL as reprisal for the publishing of a contentious report was as unexpected as it was erosive of ethical values. Such a misstep must not recur – it must be ensured that the ECL sticks to its original purpose."