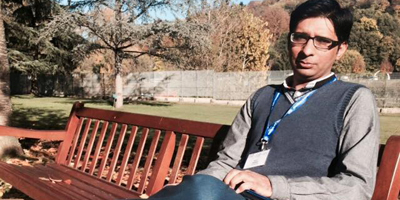 JournalismPakistan.com May 05, 2016


LOS ANGELES: The Daniel Pearl Foundation (www.danielpearl.org) is proud to announce that Aoun Sahi, a Daniel Pearl/Alfred Friendly Press Partners Fellow in 2010, was a member of the Los Angeles Times reporting team that won the Pulitzer Prize for breaking news in connection with its coverage of last year's mass shooting in San Bernardino.
Reporting from Islamabad for the Times' front page stories, Mr. Sahi was the first to report on Tashfeen Malik's radicalization process, including her studies of a fundamentalist strain of Islam in Pakistan and extremist Facebook messages. His on-the-ground reporting played a key role in the Times' coverage.
Mr. Sahi stated, "This wonderful recognition is the result of a team effort by a number of dedicated and courageous reporters backed by talented and supportive editors. I am particularly proud that my profile of the "Saudi girl" was one of the main prizewinning entries."
In an email to Dr. and Mrs. Pearl informing them of the Pulitzer Prize, Mr. Sahi expressed his appreciation for the opportunity to work with an American newsroom as a Daniel Pearl Journalism Fellow. "In a very real sense, the Pearls are responsible for my receiving this very special honor."
"I would like to dedicate this achievement to two courageous journalists. First, to Daniel Pearl, who was brutally murdered by terrorists while pursuing a story, and second to my late older brother, Asad Sahi (a senior journalist) who was my mentor, friend and inspiration. He died last year in April. I received notification of this recognition exactly one year after his death. He would have been so pleased," Mr. Sahi added.
"We could not be more delighted for the well-deserved recognition that Aoun has received," stated Dr. and Mrs. Pearl. "He has been like family to us and we are extremely pleased that his time as a Daniel Pearl Journalism Fellow played a role in his growth and development as an award-winning journalist."
"Many former Daniel Pearl Fellows have distinguished themselves by their achievements as journalists committed to reporting the facts, often in the face of tremendous obstacles and at personal risk," Dr. and Mrs. Pearl added.
Mr. Sahi was selected as a Daniel Pearl/Alfred Friendly Press Partners Fellow in 2010 and worked as a reporter for five months at The Wall Street Journal's Atlanta bureau. In 2011 he became a special correspondent for The Times of London and the Los Angeles Times in Islamabad. He won successive journalism awards from the International Labor Organization in 2014 and 2015. He is currently Editor/Bureau Chief for Channel 24 in Islamabad, as well as a Los Angeles Times Special Correspondent, a Pakistan representative for Prince Steer International Films, a Los Angeles based film company, and has contributed articles to the Washington Post. - Source: The Daniel Pearl Foundation
Related post from JournalismPakistan.com Archives:
International honor for Pakistani journalist Aoun Sahi
Aoun Sahi joins Channel 24 as Islamabad Bureau Chief