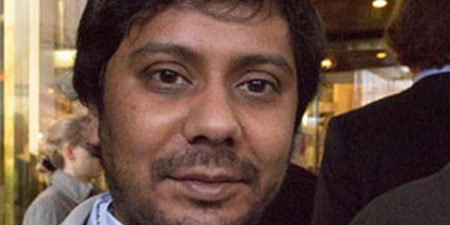 JournalismPakistan.com October 16, 2016


ISLAMABAD – Cyril Almeida of Dawn, his name off the Exit Control List, said Sunday the reaction to his October 6 story was not unanticipated and nothing had been left to chance before it was put out in print.
"The story had arrived fairly quickly after the fateful meeting, but it was only published on Thursday. The gap was all about verifying, double-and triple-sourcing and seeking official comment," he wrote in his weekly column.
In the column titled 'A week to remember' Alemdia makes it clear at the outset he was writing about himself "at the request of overseers of these pages."
Almeida, an assistant editor at the paper, was put on Exit Control List by the government on October 10 after his explosive story on a high-level national security meeting highlighted civil-military tensions.
His name was however, struck off the list five days later, following pressure from media practitioners, international press freedom watchdogs and others.
Almeida wrote that for him and his paper there were only two questions that mattered. "Did the meeting take place? Could I verify through multiple channels what was said?
"You know the camps, you know the divisions and splits, and you know at any given time who may be interested in selling what. They exist in civ as much as they do in mil."
Going on, he said what landed that Thursday was "something that the paper and I were already comfortable with" and it meant little fear of the paper buckling down or he himself retracting.
He wrote that there was one underestimation on his part though. "In writing the story, I was aware that a grenade was being dropped in the news cycle. It has since turned out to be a surgical strike followed by a nuclear attack."
Almedia then asked: "So do I regret it? Not one bit."
He said that by Monday he had begun to believe the story was about to fade and the news cycle ready to move on. "Then came the ECL decision. At that point alarm set in – for personal safety and freedom. Because before the ECL decision, it had not even occurred to me that I could be put on the ECL."
He then wrote about his paper's reaction and that of the media. "First, and immediately, this paper swung into violent and fierce action. Second, the wider media battered and fractured by violent convulsions of its own in recent years, mostly united – perhaps as much out of self-preservation than indignation. To both my sincere gratitude."
Alemdia said there was an acute discomfort at having become the story. "Because it makes you radioactive and because the longer it stays a story – I stay a story – the more problematic it will become to separate spin from fact in future."
In the end he hoped for a quick resolution "so that the overseers of these pages do not ask me to write about myself again. Normal service to resume next week, I promise."