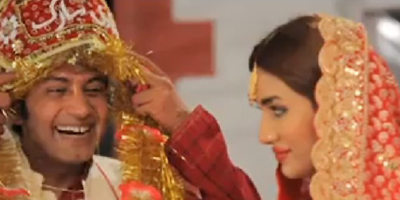 JournalismPakistan.com July 25, 2013
ISLAMABAD: International media have given ample coverage to a ban imposed on a television commercial promoting the use of a condom brand.
In a country where the population is likely to shoot up from 180m to more than 240m in the next two decades, the ruling will worry family planning campaigners, The Telegraph wrote.
The paper said it was another victory for the conservatives after the Pakistan Electronic Media Regulatory Authority (PEMRA) banned airing of the commercial this week following public complaints.
The racy advertisement features model and actress Mathira who was quoted by worldnews.nbcnews.com as saying: "The ban has really blown things out of proportion, and millions of people who wouldn't have watched it are now downloading it, just because of the hype."
"I didn't do this ad for the money. I did it because Pakistanis need awareness. Sexual education is compulsory for kids all over the world, but not here. They need it to avoid being harassed."
The ad revolves around Mathira who marries an ordinary man leaving people in the neighborhood surprised. When a neighbor asks what the secret of keeping his wife happy was, the hubby quickly shows a pack of Josh condoms. His advice: "Bring Josh into your life."
DKT International, a US-based non-profit organization that works to promote family planning and HIV/AIDS prevention in the developing world markets Josh condoms in Pakistan.
"Pakistan's uneasy relationship with foreign-aid organizations has been underlined thanks to a condom kerfuffle that has many conservative commentators foaming at the mouth," Radio Free Europe/Radio Liberty said on its website.
"The notion that NGOs are foreign agents parading as charities in order to hide a more sinister agenda is common among conservative elements in Pakistani society, and such attitudes have often hampered the work of these organizations," it said.

"Since late last year, several polio-vaccination workers have been shot dead in Pakistan by extremist groups who believe immunization activities by medical aid workers are un-Islamic and cause harm to Muslim children.

"Such hostility toward NGO operations can have a detrimental effect on important health and awareness campaigns, and this latest controversy has also given more progressive elements in Pakistani society a chance to voice their frustration."
According to the United Nations a third of Pakistanis have no access to birth control and its 180 million population is growing by more than two percent a year. Around a third of Pakistanis who want birth control have no access to it, according to U.N. and government statistics.