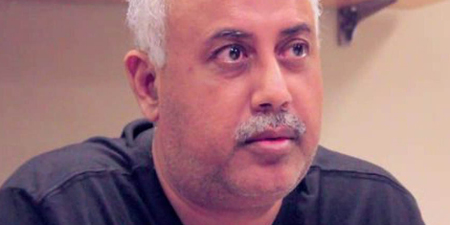 JournalismPakistan.com April 02, 2017 Daud Malik



ISLAMABAD: Columnist Wusatullah Khan Sunday criticized electronic media for downplaying news of a suicide attack on an Imambargah in Parachinar that left 24 dead and 74 injured, saying media attention is limited to only six cities.
In his usual acerbic style, Khan in his bbcurdu.com column - Hamara Pakistan aur Media ka Pakistan – hinted that media downplays news in which victims belong to minorities or to remote areas.
"Both politicians and journalists need news to live and the news should be in Karachi, Lahore, Peshawar or Islamabad. Killing of 24 people in Parachinar...is indeed a sad incident but it's not news. If it is news, then after three hourly bulletins, it may not be part of main headlines in the fourth one. "
Electronic media has been under attack for giving more coverage to a Jammat-e-Islami (JI) protest in Karachi over electricity charges and outages than the bombing in Parachinar.
The columnist maintained that the National Action Plan and the military courts are put in place only when 144 children are killed in the Army Public School in Peshawar but not when Hazara people are facing genocide and migrating from Quetta or when Christians' homes are burnt in Youhanabad and Gojra.
Similarly, he added the operation Radul Fasad and revival of military courts is only possible when 10 people are killed in Lahore's Charing Cross, and Pak-Afghan border is closed in the aftermath of 72 people dying in Sehwan, but not when 50 lawyers are killed in Quetta's Civil Hospital or 60 people get killed at the mausoleum of Shah Noorani.
He said the media is more interested if the Panama case verdict will be out in the coming week or that fast bowler Mohammad Irfan has been stopped from playing cricket for six months because of spot fixing.
For the media, he said, the news is the release of Dr. Asim Hussain from jail on bail and the JI's closure of the main artery of Karachi over power outages for two hours.
However, the bigger news for the media is the meeting of PTI chief Imran Khan with the army chief Gen. Qamar Javed Bajwa to "know that COAS is standing with democracy and also to check if the third umpire's finger is working or not."
Still bigger news, Khan wrote, is Maryam Nawaz's tweet that the Prime Minister has a kidney stone but there is no need for operation. He says the pain in the Prime Minister's stomach was thoroughly analyzed by two talk shows, linking it with the Panama case verdict, wondering if this was an effort to gain judges' sympathy.
According to Khan, for the media, the map of Pakistan comprises six cities – Islamabad, Rawalpindi, Peshawar, Quetta, Lahore, and Karachi. "If somebody sneezes which media considers Pakistan, it is breaking news. For the rest of Pakistan, the breaking news is only when it commits suicide."