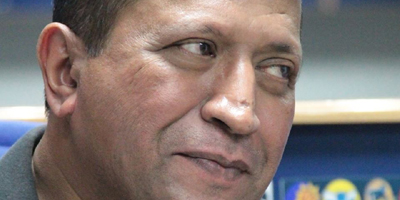 JournalismPakistan.com June 21, 2016 Daud Malik



ISLAMABAD – A member of the team that helped launch The News International in Rawalpindi, Aamir Qureshi has called it a day after giving his dedicated best to the reputed English daily newspaper for over two decades.
This soft-spoken individual, who gave his prime years to The News, shaped its city pages with professionalism and commitment.
During his stint as City Editor, Aamir upheld highest standards of editing, and meticulously chose as big as eight-column photographs for use on the four-page City section without ever compromising on layout considerations.
Aamir always took extra pains to update the 'What's On' column, which continues to be the most authentic guide for readers wanting to keep abreast with city events.
Aamir is a journalist who took his job seriously; he would edit, review and rewrite each story to perfection. Much to the chagrin of the reporting staff, he sported a firm demeanor when enforcing adherence to deadlines; so if 4:00pm was, for instance, the deadline for submission of stories during Ramazan, it meant 4:00pm, come hell or high water!
Aamir is among a handful of journalists who joined The News in February 1990 and were known for standing firm against temptations such as better job prospects and lucrative salaries.While others around him seized such opportunities, Aamir held the fort, preferring neither to switch over to other desks within the newspaper, nor even to reporting, which offers more flexible work hours. The only distraction that ever stood between him and his official responsibilities was his constant struggle with a health condition, but even that failed to weaken his resolve.
Aamir knew how to handle never-ending requests for accommodating news items – a real nightmare in the older days when thenewspaper was at the peak of its popularity. While he acceded to what was doable, he was also adept in the art of declining requests without invoking resentment or hurt.
"Amid all odds, Aamir has done justice to the profession. Aside from being a committed journalist, he is a God-gifted human being who never ceases to impress me with his perseverance and patience. He has stood firm in situations where a person of a lesser mettle would crumble. He possesses rare qualities of head and heart and leaves behind a rich legacy for his teammates to emulate. It is hard to imagine the Al-Rahman Building without Aamir. I have great faith in his capabilities and wish him all the best in his future endeavours," expressed Shahina Maqbool, a former City Editor at The News and his one-time mentor.
A connoisseur of English music and a voracious reader of comics, Aamir remained apolitical – a tough undertaking for anyone working in the newsroom of a Pakistani newspaper where political commentary - from serene to salacious- flies freely.
In today's journalistic world, which is centered on sensationalism and controversies, and which thrives on self-promotion, Aamir is an outsider – albeit a committed one!
(The writer is a senior journalist who has worked at The News and Dawn).
Related posts from JournalismPakistan.com Archives:
The News columnist quits for not getting paid
Talat reconnects with The News
The News hires senior desk journalists
Long-serving sub of The News to quit