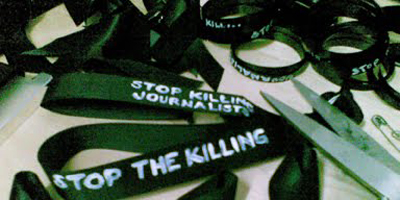 JournalismPakistan.com May 29, 2013
NEW YORK: The Committee to Protect Journalists (CPJ) has urged the Pakistani authorities to identify the motive behind the fatal shooting of a local crime reporter and bring the perpetrators to justice.
Two assailants shot Ahmed Ali Joiya, 25, in a Bahawalnagar village market on May 24. Two street vendors were also injured in the attack.
Joiya had received death threats from Kooli Sasi, also known as Maqbool, who police say is behind more than 150 different local crimes, news reports said.
The reporter had often covered crime and narcotics trafficking for several local print publications, reports said. His stories had helped police, prompting regional police to award him a prize last year, according to some news accounts, which did not elaborate on the nature of his assistance.
Pakistan Federal Union of Journalists President Pervaiz Shaukat told the International Federation of Journalists (IFJ) Joiya had been working on exposing criminals and had been killed in the line of duty.
News reports said Joiya had been helping the police in an investigation at the time of his murder, although the nature of his help and the type of investigation were not specified.
Gulzar Ahmed Chaudhry, president of the Bahawalnagar Press Club and the local correspondent of Dawn, disputed news reports that said Joiya had been killed in connection with his work.
Chaudhry told the media support group Rural Media Network Pakistan that Joiya had been killed in connection with a domestic dispute with Maqbool, and said that the two men were cousins.
Police said they suspected Maqbool was responsible for the murder, according to news reports. Muntazir Mehdi, a local police officer, told journalists that an initial investigation showed Maqbool was in Sindh province and that a team had been formed to arrest him.