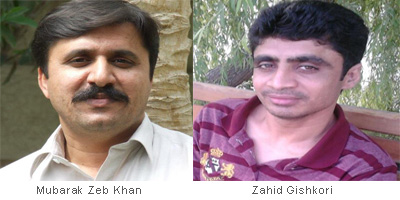 JournalismPakistan.com May 12, 2012
ISLAMABAD: Mubarak Zeb Khan of Dawn and The Express Tribune newspaper's Zahid Gishkori have been selected for the Canadian High Commission's Award for Excellence in Pakistani Journalism.

The awards will be presented to them at a ceremony at the National Press Club in Islamabad on May 17. It could not be immediately known if there were other award winners.

Mubarak who covers mainly economy and business won the award for investigating corruption and tax fraud in Pakistan.

An email sent to him by the communications head on behalf of the Canadian High Commissioner to Pakistan Ross Hynes, said: "I am delighted to congratulate you on your selection for the Canadian High Commissioner's Award for Excellence in Pakistani Journalism in the Public Interest in the print media category.

"Your outstanding reporting investigating the extent of corruption and tax fraud in Pakistan exemplifies the ideals of public interest reporting, demonstrating how the media serves as the 'fourth estate' of democracy," said the message.

This will be Mubarak's third award in less than two months after he scooped up the prestigious All-Pakistan Newspaper Society (APNS) award last month and another one in March.

Mubarak covers mainly economy and business. He has attended the Innovation Journalism Fellowship program at the Stanford University in California and did his post-graduation in global political economy from Britain's Sussex University under the Chevening Scholarship.

On the other hand Zahid who covers parliament, politics, security and diplomatic issues and human rights won the runner-up award for his story on Airblue plane crash investigation which he had filed last year.

A panel of eminent Pakistani journalists selected the Canadian award winners.