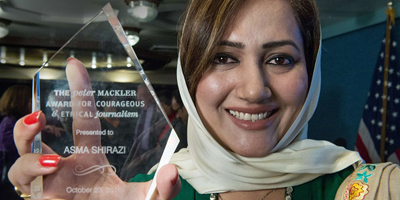 JournalismPakistan.com October 24, 2014
WASHINGTON: The Pakistani journalist honored for courageous reporting on Thursday spoke out against "brutality" against reporters in Pakistan as she expressed hope for greater freedom for the news media.
Asma Shirazi, Pakistan's first female war correspondent and host of popular TV talk shows, made the comments as she accepted the 2014 Peter Mackler Award for Courageous and Ethical Journalism.

Shirazi said she was encouraged by the recognition but noted that the country remains one of the most dangerous in the world for news reporters, with 99 journalists killed in the line of duty since 2000.

Journalists in Pakistan "are working in an environment where they could be killed anytime," she told the award ceremony at the National Press Club in Washington.
'I dedicate this award to the unsung heroes of journalism in Pakistan who sacrificed their lives for the cause of their profession."
She said this includes many working in remote areas who "are endangering their lives on every spur of the moment."
The situation is one of "extreme gravity," she said, noting that reporters have been beheaded, tortured, and killed in suicide bombings.
"Despite these dangers and difficulties, Pakistani journalists continue unabated with the task at hand, to give voice to the voiceless, to speak truth to power and to tell everybody the everyday story of our life," she said.
She added that the prize offers "an opportunity to raise my voice against the brutality that journalists in Pakistan are subjected to."
"I expect this award to promote the true meaning of courage and ethical journalism in Pakistan," she added.
Pamela Constable, the Washington Post journalist who introduced Shirazi, praised the recipient for her dedication.
"It's not easy to be a woman in Pakistan, and it's not easy to be a journalist who is committed to speaking or writing the truth," she said. "It's especially hard to be both."
The award, named for the late AFP journalist Peter Mackler, is administered by Global Media Forum in partnership with AFP and Reporters Without Borders.
Shirazi reported on conflicts that include the 2006 Israel-Lebanon war, Taliban violence on the Pakistan-Afghanistan border in 2009 and General Pervez Musharraf's 2007 state of emergency.
She also hosted two popular television talk shows, including one on parliamentary affairs that Musharraf banned when he clamped down on independent news coverage.
Pakistan is currently ranked 158th out of 180 countries in the World Press Freedom Index published by Reporters Without Borders.
Shirazi is the sixth recipient of the award, and the first from Pakistan. Last year's winner was Sudanese journalist Faisal Mohammed Salih. - AFP