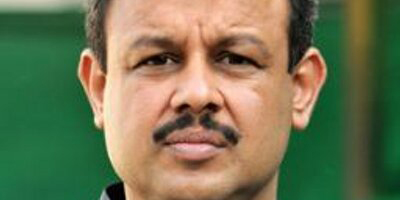 JournalismPakistan.com December 22, 2014
ISLAMABAD: Asad Kharal, one of Pakistan's top investigative journalists has joined ARY News as editor investigation and anchorperson.

He was previously working with The Express Tribune as an investigative reporter. A JournalismPakistan.com source says he will start hosting a prime time show from January 1 (Monday through Thursday) based on his investigative stories including corruption and bad governance. He will also have Sabir Shakir (ARY's Islamabad Bureau Chief) and Arif Hameed Bhatti (Lahore Bureau Chief) on the show.

Kharal comes with an experience of more than 1500 investigative news stories in print media and more than 100 breaking news in electronic media to his credit. He is also author of six books and a regular contributor to The Guardian and Chicago Sun Times.

Kharal has been a regular participant in TV talk shows on Express, ARY, Dunya, Samaa and DawnNews Television channels.

He won the "Investigative Journalist of the Year" award in 2003 besides bagging two other awards in categories of judiciary, law and order.

The Supreme Court of Pakistan has taken numerous suo moto notices on Kharal's stories published in The Express Tribune including misuse of Intelligence Bureau (IB)'s secret funds, multi-billion-rupee NICL scandal and over 70 percent acquittal of high profile terrorists.

He has also assisted the Supreme Court in numerous other suo moto cases like Rs34 billion EOBI scam, NAB investigator Kamran Faisal's mysterious death, and the illegal appointment of the then Prime Minister Raja Pervaiz Ashraf's son-in-law as executive director World Bank.

Kharal along with senior journalists Hamid Mir and Absar Alam is also a party in the case pending with the Supreme Court regarding corruption in media and misuse of secret funds of Ministry of Information and Broadcasting.

He has also worked for The News and Daily Times, Geo, and Dunya Television.