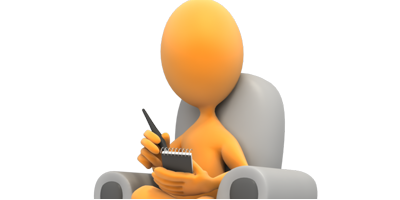 JournalismPakistan.com April 09, 2013
ISLAMABAD: So far every third person who wants to join the media, whether electronic or print, in Pakistan wants to be a reporter. The other two either want to be analysts or anchors. But nobody actually wants to be a journalist per se. Producers, APs, sub-editors, copywriters etc are not considered 'journalists' or so we are led to believe.
"It's all about money," our contributing columnist and senior journalist Z.B. Saigol says. "It has nothing to do with the profession and is totally motivated by what goes into the bank account... and the ego factor that very soon everybody begins to recognize your face whether you know something or not. The more glib you are of tongue, the better the chances of succeeding in the electronic media."
Stephen Manuel, Chief Editor of JournalismPakistan.com, is of the opinion that although the media in Pakistan has more freedom than ever it is also clouded by a diminishing sense of responsibility. "Journalists, or those who call themselves as such, are more interested in getting news out quickly rather than accurately. I feel this has everything to do with being recognized as the face behind a certain news development. Such things matter in the shallow world of Pakistan media."
"The ultimate goal these days is to become an analyst. Not only does it pay more but does not have the constraints of being tied down to one news channel. Indeed, there is a tough competition out there. There are more channels than ever and people are getting tired of the same old faces. New opinions, no matter how radical or deviant from the truth, stick in the mind of the people," Saigol said.
When asked if reporters made good analysts, Saigol said they did not but that did not stop them from trying. "People like Ansar Abbasi were reporters at one time. Very ordinary too at that. It's just that most reporters these days are either in the pocket of somebody ideologically, financially or politically. They can give a certain tainted viewpoint but analyze they cannot."
Talking about reporters and analysts, www.yahoo.com has come out with a report that says one of the 10 professions on the downward slide in the United States is the 'reporter' – both the print and electronic media.
Quoting the US Bureau of Labor Statistics, the report says "the ongoing shift toward the digital consumption of news continues to pressure newspaper and magazine publishers, as well as television and radio broadcasters."
The 10-year growth projection for reporter as profession is - 7.5%. Currently according to the report the US has 51,900 reporters. The average annual pay for a reporter in the US is $25,720-$51,050.
The other professions which do not have bright prospects in the US are post office clerk, switchboard operator/call receptionist, semiconductor processor, sewing machine operator, printing press technician, desktop publisher, door-to-door salesman, floral designer, and jeweler.

The report says: "Adding to reporters' woes, the rise of media conglomerates has shrunk the number of positions as newsrooms have merged."

The solution the report recommends is "jumping on the other end of the press release, and pick up a gig in public relations." In the US, it says, as a PR specialist, "you'd still be in media and communications, but you'd be in much higher demand and earn more than your journalistic counterparts; salaries range from $39,560 to $72,840."

But if you don't have the temperament of a PR person and want to continue as journalist, the report suggests a "switch to broadcast news analyst". Why? "You can work on-air as a newscaster or behind the scenes as a news director. Broadcast news analysts are paid better than reporters and are expected to add 10.2% more positions this decade."