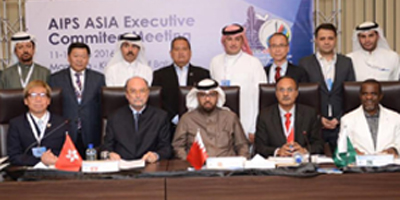 JournalismPakistan.com February 13, 2016


MANAMA - Mohammed Qassim the head of the Bahrain Sports Media Committee was unanimously elected the new president and Pakistan's Amjad Aziz Malik (seated, second from right) as Secretary General of the Asian sports journalists body AIPS-ASIA at the continental election held during the 18th AIPS-ASIA Congress.

Qassim and Malik were elected unopposed for the next four years. Malik is the first Pakistani to be elected the secretary general of this body.

Qassim replaces Kuwait's Faisal Al Qanai, while Malik takes over from Iran's Seyed Abdolhamid Ahmadi.

Raymond Chiu of Hong Kong was elected the first vice president while Niranjan Rajbanshi from Nepal was elected to the post of treasurer uncontested as Husein A.F. Alian of Palestine withdrew.

Talal Umer of Saudi Arabia, Muhammad Hijju of Qatar, Tu Xiaodong of China, Ahmad Khawari of Malaysia and Meisam Zamanabadi of Iran were elected vice presidents.

The Executive Committee members elected were Hee Don (Republic of Korea), Shinsuke Kobayashi (Japan), Otgonbaatav (Mongolia), Ilyas Omarov (Kazakhstan), Nim Seong (Macao), Abadullah Ibrahim (Untied Arab Emirates), Sattam Al Saihli (Kuwait), and Hussein Alian (Palestine).

During the Congress Sri Lanka was affiliated to the AIPS-ASIA after the recently held AIPS Congress in Qatar approved their membership application.

AIPS President Gianni Melro and the Interim Secretary General Evelyn Watta were also present at the 18th AIPS-ASIA Congress.
Related posts from JournalismPakistan.com Archives:
Amjad Aziz to run for Secretary of Asian Sports Writers Association
Amjad elected on AIPS executive body