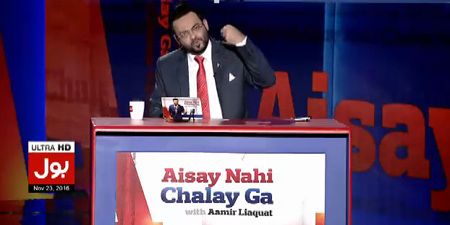 JournalismPakistan.com November 25, 2016 Imran Naeem Ahmad



ISLAMABAD – BOL is finally beginning to talk and it is getting louder as the channel seemingly exacts revenge on rival news organizations widely thought to have conspired against them last year.
In his program Aisay Nahin Chalay Ga, executive anchor Dr Aamir Liaquat Hussain questions and ridicules presenters and analysts of various channels for what they say on screen, particularly those at Geo.
He has come up with funny names like Chiri Baba for Najam Sethi, Rul Gaye Baba for Hamid Mir and calls Shahzeb Khanzada, Google Baba. All three represent Geo.
Showing clips from their respective programs, he then comments and attempts to expose the 'agendas' they follow, their poor research and the sloppy questions they often ask guests on their shows.
Dr Aamir's target is not just Geo though. He regularly attacks Javed Chaudhry whom he calls Chaudhary Baba, and others like Kamran Khan of Dunya, and ARY's Kashif Abbasi and Wasim Badami. He also takes on political leaders while also highlighting such issues as rising smog in Lahore and the VVIP movements.
The program is gaining popularity and such is its name it could soon become common phrase. The concept is unique, its approach and commentary quite bold.
However, sooner or later Dr Aamir could run into problems. While the viewers may like and love what he does and say, he is also making enemies. In one of his recent programs he talks about the medicine (read alcohol) that a popular Geo analyst is known to regularly consume. "When you have excess of it, you do not know what you are talking about on screen," Dr Aamir says in his commentary about that analyst.
Although interesting, his comments are at times harsh and may not go down well with rival organizations, among them Geo, the channel that made him 'Aalim Online.
Insiders say his program has been rated No. 1 by rating company MediaVoir.
Presently in a test transmission stage, BOL was prevented from hitting the airwaves in 2015 when a New York Times story alleged that Axact, the parent organization of BOL, was involved in selling fake degrees worldwide.
This led to the arrest of BOL CEO Shaoib Ahmed Shaikh and several of his senior managers who languished in jail for 15 months before being freed.
It is said a conspiracy was hatched against BOL by some news organizations that felt threatened by the channel's financial might and its claims of taking the Pakistani media industry by storm.
The channel is now making a fresh attempt to formally launch before the year ends.