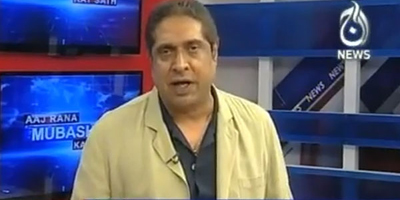 JournalismPakistan.com February 15, 2016


ISLAMABAD - Aaj News Television appeared to put its competitors to shame by presenting the point of view of Axact - something other channels have continually ignored.
In the program Aaj Rana Mubashir Kay Saath aired on February 13, the host Rana Mubashir tries to investigate why a challan has not been submitted against Axact in the court even after eight months. Axact, the parent company of BOL News Television landed into problems after a New York Times story last May alleged it was involved in selling fake degrees to students.
Subsequently, Axact and BOL News CEO Shoaib Ahmad Shaikh was arrested and the company offices sealed. This affected over 30,000 employees.
Shoaib Ahmad Shaikh's lawyer Raja Rizwan Abbasi, the guest on the show, was asked what were the charges leveled against his client. These he said were those of fraud, forgery and anti money-laundering, besides some sections of electronic transaction act mentioned in the FIR.
Abbasi said if any IT-related person ever read the charges he would think this was some kind of a joke.
About Axact's alleged involvement in money-laundering, the lawyer explained all the money came from abroad. In the last three to four years the company brought in about $700million. He said this was done legally through the State Bank and by declaring it on the e-form. "When someone's money is coming from outside, why would he ever get involved in money-laundering. As per law, he can send one-third amount abroad legally but this was never done.
About the inordinate delay in submitting the challan, he was forthright in saying this has not been done because there is no evidence. "There is no substance and facts are twisted."
He said their application seeking bail for nine people was rejected on the grounds that this was a high-profile case.
On the allegation of Axact issuing fake degrees, Abbasi said this was not true. "There is not a single degree Axact issued... in fact they printed those degrees here as asked for by their customers. We have all the relevant contracts and licenses in this regard."
Axact, he said was not just involved on the education side but was also providing nine other services. "If there was a question mark on one, why then were the nine others shut down," he asked.
He went on to ask why is that Axact's point of view has never been presented before the public.
Related posts from JournalismPakistan Archives:
Axact-BOL boss shifted to Jinnah Hospital
Axact-BOL boss Shoaib Shaikh taken into custody
Fake degrees operation likely providing financial fuel for BOL: New York Times